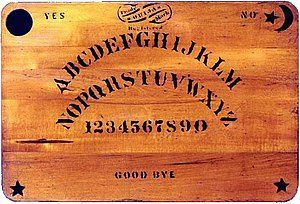 A few weeks ago a handmade cardboard Ouija board was found abandoned in some Torquay woodland and an image posted on Spotted Torquay. It looks like the board was being used by local young people to ask the spirit world about the faithfulness of a boyfriend. This started a bit of a discussion about whether Ouijas were just a harmless bit of fun or something more sinister.
So what is a Ouija board and where did they come from? Also known as a spirit boards or talking boards, Ouijas are boards marked with the letters of the alphabet, the numbers 0–9, the words 'yes', 'no, and sometimes 'hello' and 'goodbye', along with various symbols. Accompanying the Ouija is usually a small piece of heart-shaped wood or plastic called a planchette. Participants place their fingers on the planchette, ask a question, and it moves about the board to spell out words, the belief being that the dead are able to communicate with the living. 'Ouija' is a trademark of Hasbro Inc., but is often used to refer to any talking board, and we'll use the term here to cover a variety of spirit boards.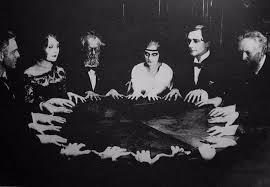 Using an Ouija board is nothing new in the Bay. We've been using them to contact the departed for well over a hundred years. During the later nineteenth and early twentieth centuries Torquay was a centre for Spiritualism, the belief that the dead could communicate with the living. While automatic writing dates as far back as China in 1100 AD, it was spiritualist mediums who developed various ways to supposedly talk with the departed. Notably local women played a significant role in the movement, in contrast to the male-dominated Torquay churches. Spiritualism was compatible with Christianity, meaning Torquay folk could hold a séance on Saturday night and have no difficulty in going to church the next day. Indeed, séances quickly became a mix of religion, parlour game and dating game – where else could respectable young people hold hands in the dark without causing a scandal?
The traditional séance method of communicating with the dead was through rapping – poet Elizabeth Barratt Browning (pictured above) who lived on Torquay Harbourside, for example, enquired , "Do your American friends ever write to you about the rapping spirits?" A question could be asked during a séance and the 'spirits' would answer with one knock for yes or two knocks for no. This was, however a, very tortuous way of communicating, so mediums developed the talking board which could quickly spell out an answer.
While a variety of these talking boards had long been in use it was in Baltimore in 1890 that the "Ouija, wonderful Talking Board" that we're familiar with was created. Charles Kennard (founder of the Kennard Novelty Company) claimed he learned the name 'Ouija' from using the board and that it was an ancient Egyptian word for 'good luck.' Another suggestion is that the name came from a combination of the French and German words for 'yes'. Yet another proposal is that it came from the name of a medium called Ouida.
The boards were most popular from the 1920s through the 1960s. In 1991 Hasbro bought the name and continues to hold all trademarks and patents, although around ten brands of talking boards are sold today under various titles.
Ouijas turns up in the most unexpected places: much of William Butler Yeats' poetry was inspired, among other occult practices, by the Ouija board; Bill Wilson, the co-founder of Alcoholics Anonymous, described in his autobiography how he used the Ouija Board to create the program's famous twelve steps.
The mysterious Ouija can also be used to glamorise the mundane. For instance, early press releases stated that Vincent Furnier's stage name Alice Cooper was suggested by a Ouija board which revealed that the singer was the reincarnation of a 17th-century witch. Alice Cooper later admitted that he just thought of the first name that came to his head while discussing a new name with his band.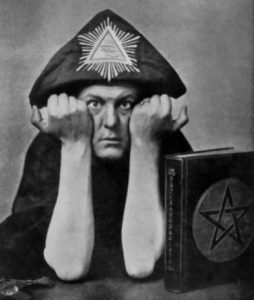 We've noted that Ouijas were being used in the Bay for well over a century, and here's a few locals who were enthusiasts. Torquay resident and the most notorious magician of the twentieth century, Aleister Crowley (pictured above) admired the Ouija board and it played a role in his magical workings. He believed that the board used the same principles that were practiced by the Elizabethan magician John Dee, who used a crystal ball as a means of 'skrying' or seeing into invisible realms.
Another Torquay Ouija adherent was explorer Percy Fawcett (1867-1925). An artillery officer during the Great War, Percy (pictured above) used the board to counter German heavy guns. In late 1916 when he arrived to take up his new post of corps counter-battery colonel, he immediately declared that he was "not in the least bit interested in the innovative work being done on the detection of German guns by flash-spotting and sound ranging… The only counter-battery shots which he would allow were those against targets clearly visible from British lines – or those he had personally detected on his Ouija board." Percy may not have been asking the right questions, however. Along with his eldest son, he disappeared in 1925 during an expedition to find Z, his name for a lost ancient city which he believed to be the remains of El Dorado. A movie of Percy's life has recently been made. Here's the trailer which includes a glimpse of a Ouija board:
There's also use of Ouija in crime solving. In America in 1920 national wire services reported that would-be amateur detectives were turning to their Ouija boards for clues. And it continues – in London in 1994, convicted murderer Stephen Young was granted a retrial after it was revealed that four of the jurors had used a Ouija board and had 'contacted' the murdered man, who had named Young as his killer. Nevertheless, Young was convicted for a second time and jailed for life.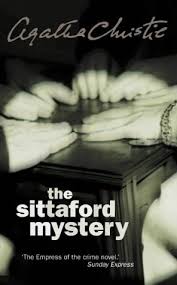 Ouijas are certainly a useful plot device. Our own Agatha Christie was interested in spiritualism and the paranormal. Her 1931 The Sittaford Mystery – set in a lightly disguised Okehampton – uses a Ouija board, for instance. And, of course, Ouija boards figure prominently in various horror films. The Uninvited, made in 1944, features a scene with an impromptu board the characters had put together.
Yet, for most of their existence Ouijas were generally seen as being harmless. This would change overnight in 1973 when the blockbuster film, The Exorcist, used a Ouija board to explain why a young girl has become possessed by a demon. Ouijas quickly became seen as a tool of the devil and were utilised by horror writers and moviemakers. Since then we've had Ouijas being used in: What Lies Beneath (2000); Paranormal Activity (2007); Ouija (2007); Drag Me to Hell (2009); Ouija (2014); in episodes of Breaking Bad; and many paranormal reality TV programmes.
.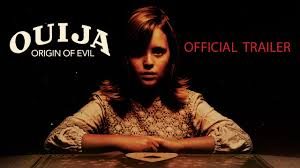 This modern association between Ouija and evil led in 2001 to Alamogordo, New Mexico, with Ouija boards being burned on bonfires. On the other other hand, the incendiary Christian fundamentalists responsible also similarly destroyed copies of Harry Potter and Disney's Snow White as "symbols of witchcraft." Christian concerns remain with Torquay's Adventist Church advising its congregation, "Stay away from all satanic activities such as séances, Ouija boards, and other activities of spiritism".
Yet, while many see Ouijas as just mumbo jumbo, surprisingly the boards do seem to work and experiments have found an above average success rate when a question is asked. So how do they work? In 1853, chemist and physicist Michael Faraday, intrigued by Spiritualism's table-turning, conducted experiments that proved to him that the table's motion was due to what's called the 'ideomotor' actions of the participants. Following Faraday, various studies have suggested that people move the planchette involuntarily – the messages supposedly spelled out by spirits were similar to whatever was going through the minds of the participants. Along with dowsing rods and pendulums, Ouija boards give a strong impression that movement is being caused by an outside agency. But they're all devices where a tiny muscular movement can cause a much larger effect. Accordingly, Ouija use was consigned to the history books of human psychology. However, they have recently made something of a comeback and are now being used to investigate non-conscious thought processes – for example, neurodegenerative diseases such as Alzheimer's.
So that's the story of the long association of Torquay and the Ouija board. What we do know is that there is a continuing use of talking boards amongst some young people, so it seems that you can't keep an old tradition down. Sadly we may never know whether "Tim really does love Michelle?" and if that abandoned Torquay Ouija did actually work. Perhaps we need to conduct a séance to find out…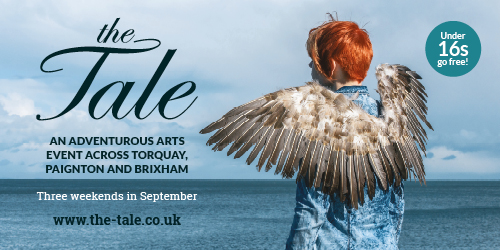 Return to our home page for more local news here.
You can join us on our social media pages, follow us on Facebook or Twitter and keep up to date with whats going on in South Devon. Got a news story, blog or press release that you'd like to share? Contact us