Tatau the Bornean orang utan peers out from a hessian sack at Paignton Zoo Environmental Park in Devon.
The three-year old's couture outfit is courtesy of Coffeeman Devon Limited of Newton Abbot, who donated hessian sacks to the Zoo.
Keepers at Paignton Zoo give orang utans – and many other species – different things to play with in order to stimulate them mentally and physically.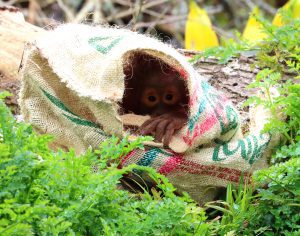 Her keepers say the toddler is developing into a strong and determined character with an inquisitive nature.
For more information go to: www.coffeemandevon.co.uk .
Paignton Zoo Environmental Park is a registered charity. For more information go to www.paigntonzoo.org.uk or ring 01803 697500.