A striking and beautiful piece of environmental art has been donated to a local conservation charity.
It's an exquisite quilt, about four feet across and three feet deep. Named 'The Vulnerability of our Oceans', it was created by artist Lesley Fudge from Warminster in Wiltshire. It came to Living Coasts, in Torquay, because her sister-in-law is a volunteer at nearby Paignton Zoo, which is part of the same charity.
The quilt was completed over two months, starting in May 2017. Lesley: "It was made as a personal response to the environmental damage being done to the oceans by plastic waste. It was something nagging in my head that I had to say and express."
The detail is both exquisite and poignant. The base fabric is indigo-dyed cotton and has a central motif of a nautilus shell. Fish are embellished with stitching and words such as 'trash' and 'pollution' are written freehand using a sewing machine. Each letter 'i' has a glass bead as its dot to represent the microbeads that are polluting our seas and each 't' is crossed with nylon thread to represent the waste fishing lines found in our waters. The whole piece is overlaid with silk net.
The upper area of water is clean and clear with plentiful oxygen but, as you descend, the waters darken and the sea-life can be seen reaching upwards for air. In the depths, plastic is caught in abandoned fishing net and seaweed and has trapped sea creatures in its tangles. Along the base, representing the seabed, are photographs of waste around the world printed onto organza.
"I don't always work to an ecological theme, but frequently use the natural world to inspire my work. I use recycled textiles when possible. I am interested in natural dyes and prints, using locally foraged plant materials to print onto wearable art fabrics. Repurposing and re-use are part of my practice."
The former NHS nurse first started to paint and has worked in most mediums. She gained a City and Guilds in Craft and Design and free motion Machine Embroidery. Much of her current work is in hand stitching, as she gains pleasure from 'slow stitching' and its meditative qualities.
The quilt will be on display at Torquay's coastal zoo, which Lesley describes as "A great venue in a brilliant location." Philip Knowling, spokesperson for Living Coasts, said: "This is an amazing work of art that tells a story we all need to hear. Living Coasts is working to protect our coasts and oceans in every way – art can help every bit as much as science, cutting through the statistics to the emotion at the heart of the issue."
Lesley cites figures from an uninhabited island in the South Pacific called Henderson Island to show the size of the plastic problem. It is estimated that 38 million pieces of plastic waste have washed up there. Experts suggest that 3,500 pieces come ashore every day. It's said that hermit crabs make their homes in plastic containers on the beaches.
Lesley: "If this precious planet of ours, our food sources and the health of the oceans is to be preserved for future generations we must all act now and reduce our use of plastics."
Living Coasts is among zoos and aquariums around the world supporting an international movement against marine litter called the Our Ocean campaign. Global leaders will tackle the issue at the fourth Our Ocean international conference – to be held in Malta on 5th and 6th October. For more information go to: https://ourocean2017.org/campaigns/world-aquariums-against-marine-litter and use the hashtag #OurOcean.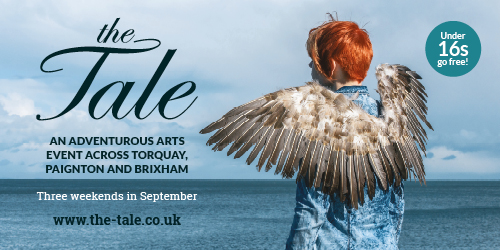 Return to our home page for more local news here.
You can join us on our social media pages, follow us on Facebook or Twitter and keep up to date with whats going on in South Devon. Got a news story, blog or press release that you'd like to share? Contact us