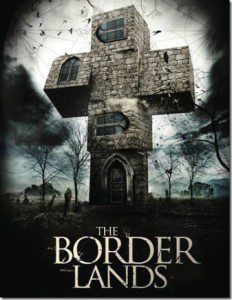 "A very punchy, funny, scary movie and a fantastically unnerving location." The Guardian
Some Torquay folk can be a little wary of travelling north of Newton Abbot. We usually ignore this feeling as irrational. Yet, strange things do happen in rural Devon and a recent horror movie acts as a warning to us all…
Way back in 1999 The Blair Witch Project became one of the most successful independent movies of all time. It used the idea of "foun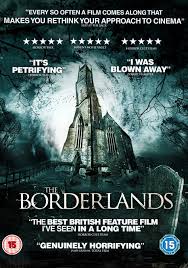 d footage" where the story is pieced together from video later recovered. Since then there have been many "found footage" movies, usually of a fairly limited quality. They can be cheap to make, however,  as only a single camera need be used and poor filming techniques easily explained away. On the more positive side this does allow filmmakers to experiment with new ideas and locations.
Now the horror movie has come to South Devon – Newton Abbot's Buckland and Denbury to be precise.
The film is 2013's The Borderlands, Elliot Goldner's feature debut. The story tells of a team of Vatican investigators being sent to a clearly-identifiable Teignbridge following reports of paranormal activity at a remote church. Presumably the Anglican Bishop of Exeter has broken with centuries of protocol and theology and invited his Catholic colleagues to do a bit of an investigation/exorcism.
The investigators consist of a burned out alcoholic Vatican investigator; an easily converted atheist techie; a modern Catholic priest; and an elderly exorcist arriving from Rome via the A380. There's a whole lot of comedy references here – the characters being an Englishman, an Irishman and a Scotsman.
The narrative unfolds on high-definition video being filmed by the participants and, presumably, recovered after the events – head-to-mike cameras transmitting the pictures to a remote server.
Of course, weird t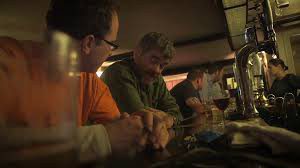 hings start to happen and the team begins to doubt its judgement – something deeply dangerous has been awakened.
Spoiler alert: the church was built to cap an ancient Pagan site where child sacrifices have taken place deep in the catacombs. The local bus shelter hoodies are still dabbling in a bit of ritual live sheep burning to intimidate visitors; the locals at the Union Inn don't take to strangers; and the resident priest jumps off the church steeple. You just know it's not going to end well.
(Incidentally, it may be worth pointing out that South Devon's Pagans tend not to sacrifice children, set alight live sheep, drive priests to suicide, or hang round bus shelters scaring tourists. They do, in my experience, make very fine vegan cuisine.)
Along the way there are quite a few laughs as the characters bicker in a Peep Show sort of way. There's also the pleasure of spotting familiar locations: Denbury's Union Inn (above left); the '2 miles to Ipplepen' sign (right), driving through Buckland etc.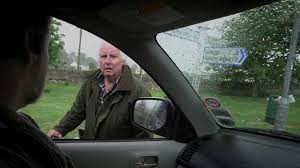 Here's the trailer:

….