"You owed our dad money, you paid with your life", Billy Kimber's daughter Maudie
Peaky Blinders is the period crime drama television series set in Birmingham which follows the exploits of the Shelby crime family in the aftermath of the First World War. While the main protagonist Tommy Shelby is fictional, other violent gangsters in the series were based in real characters. One of these was the notorious Billy Kimber who lived in Torquay.
William 'Billy' Kimber (1882-1945) was born in Birmingham and was head of the Birmingham Boys (also known as the Brummagem Boys), a street gang whose power extended from the North of England to London's underworld, between the 1910s and 1930.
Much of this criminality was based on England's racecourses. Following the Gaming Act 1845, the only gambling allowed in England was at race tracks. The introduction of special excursion trains meant that all classes of society could attend the new courses opening across the country. Huge amounts of cash were generated and bookmakers had to employ bodyguards against protection gangs operating within the vast crowds.
With gangs in Uttoxeter and Leeds Kimber controlled racecourses in the Midlands and the North. For several years he was the biggest organised crime boss in the UK using intimidation and extreme violence. His gang used razors, knuckle dusters and pistols. He set up a secondary base in Islington to concentrate on the racetracks in the South of England, teaming up with London gang boss Charles 'Wag' McDonald. Kimber also formed alliances with smaller organisations such as the Hoxton Gang and the Elephant and Castle Mob.
However, Kimber's gang began to prey on Jewish bookies from London's East End at racecourses in the South East. These bookies turned to local underworld boss Edward Emmanuel for help, who in turn recruited Darby Sabini's Gang as protection. Incidentally, Italian gangster Sabini was the inspiration for Colleoni in Graham Greene's novel 'Brighton Rock'.
This triggered a long standing and extremely violent rivalry between the two organisations. In March 1921, the Brummagems ambushed Sabini at Greenford Park Trotting Track. A few days later, Kimber was found shot and beaten in Kings Cross after visiting Sabini. The violence escalated, but Sabini gained the upper hand when 23 Birmingham boys were locked up following the 'Epsom Road Battle' when 60 of Kimber's men attacked their rivals with hatchets, hammers, and bricks.
Due to the unwelcome attention from the press and the authorities, an arrangement was made in 1926. The 'Exeter and Plymouth Gazette' revealed that the two "remarkable confederacies" had called a truce. They now held joint conferences "under a regular Chairman, at which they carefully allocate each other's respective spheres of activity, and settle plans and policy".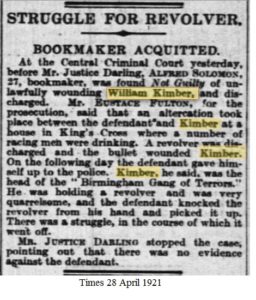 Nevertheless, the determination of the police to stamp out the gangs that preyed on bookies and onlookers eventually contributed to the rapid decline of the racecourse gangs. Arrests, severe sentences, and the introduction on to racecourses of the 'Flying Squad', the Specialist Crime and Operations section within the Metropolitan Police Service, eroded the gang's power. In 1924 the Jockey Club set up a department to supervise the rings, and keep out undesirables and "known bad characters", while Bookmakers' Protection Associations formed pitch committees "to protect and safeguard racecourse bookmakers' rights".
Billy Kimber went to America after he had fired shots through the door of the 'Griffin', a drinking club used by the Sabinis. From Arizona – where it is believed he killed a man who owed him money – he journeyed to Los Angeles and then Chicago. In the Windy City he was hidden by a friend from England called Murray Humphreys – who was part of Al Capone's notorious gang.
Then Kimber came back to England in about 1929, became involved in the Wimbledon Dog Track, and continued to operate on the racecourses of the south-west of England.
Always astute, he realised that law and order was coming to the flat racecourses operated by the Jockey Club and to the jumps run by the National Hunt. However, illegal money-making opportunities were still available at the less supervised point to points, races for hunting horses and amateur riders over farmers' land. Newspaper advertisements giving a Yeovil telephone number urged readers to "Bet with a reliable man Bill Kimber" at point to points across Devon and Cornwall.
In October 1940, Kimber attended the funeral of another Devonian bookmaker and was noted as the president of the Devon and Cornwall Bookmakers' Association.
At this time Kimber was living at his Torquay home at 10 Park Hill Road.
In the Peaky Blinders, Billy Kimber is shot dead by Tommy Shelby. In reality, William Kimber died in 1942 aged 63 at Mount Stuart Nursing Home after a long illness.

Though born and raised in Birmingham's back streets, Kimber's funeral was attended by many as he was seen as a respected and legitimate businessman. He certainly died a rich man- leaving his widow the huge sum of £3,665. His obituary in the local newspaper asserted that, "his great interest in life, both personal and professional, was racing and he was well known and respected on every racecourse in England". Others knew him as a much feared fighting man, powerful gangster, organiser of protection rackets and gangland alliances, and unforgiving foe to his enemies.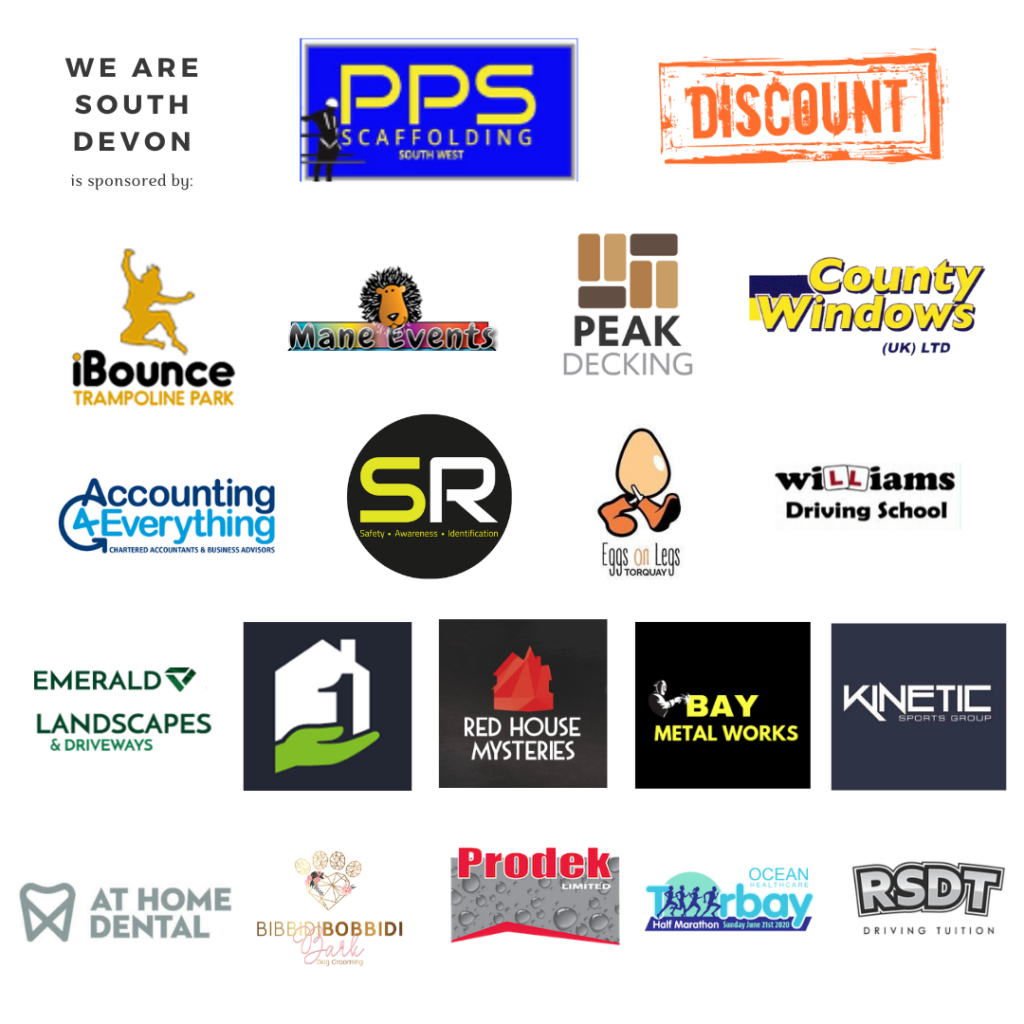 You can join us on our social media pages, follow us on Facebook or Twitter and keep up to date with whats going on in South Devon.
Got a news story, blog or press release that you'd like to share or want to advertise with us? Contact us