Have you met Pat the Penguin – living in an exclusive location in Torquay with a Toy-boy partner Pat, thought to be the second o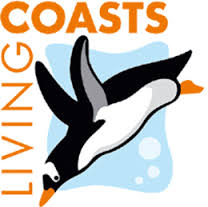 ldest penguin in Europe. And today she celebrates her 37th birthday!
Residing at Living Coasts in Torquay, Pat lives by the less romantic titile of 1389 and celebrated her birthday in style at the popular visitor attraction in Torquay with her very own cake.
Hatched at Paignton Zoo in 1978, Pat has lived at Living Coasts since it opened in 2003. Her 'partner' Eddie, is just 13.
Penguin keeper Chris Dunn told the Herald Express: "Pat has a very distinctive stance with her flippers sticking out. She can be seen by her burrow or down at the public feeds. Eddie likes to preen her and show her lots of affection.
"She is a very sweet penguin, quite happy to approach keepers for fish, and once she has decided she has had enough will head back to her burrow holding a sprat in her beak.
With 9 chicks to her credit – Pat is a very healthy old bird! She also has three great-grand penguins at Living Coasts.
Living Coasts spokesperson Phil Knowling said: "It shows that the English Riviera is great for us more mature types."
Aww happy birthday Pat!