Can you give Dave a forever home?
Dave is a 4 year old cat who has been in the care of the Blue Cross for 6 months and is looking for a new home.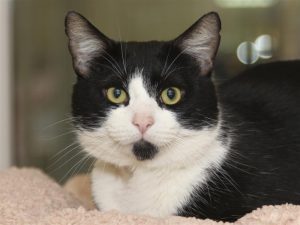 Dave's Profile on the Blue Cross website: "Hi, I'm Dave and I'm 4 years old.
"I have had quite a stressful time lately; my owners were moving house and couldn't take me with them, however I'm starting feel a lot happier now. I was very scared of the cattery environment when I first arrived here but now I'm settling in I've made a few new friends and love a gentle fuss from them and playing with my toys.
"In my previous home I was an affectionate lad who loved cuddles and sitting on my owners lap, in time I hope to be like this again!
"I am looking for a quieter home where I'll be the only cat as I'm not too keen on the other cats here at the center, a home with older sensible children/ teenagers who will be understanding and give me the time and space I need to settle in.
"If you have the perfect home for me please contact the centre. Love, Dave x"
To visit Dave's profile go to: https://www.bluecross.org.uk/pet/dave-243706?type=adopt
Who can resist a cat called Dave?
You can contact the centre on 0300 777 1550 for more information or by visiting www.bluecross.org.uk