Paignton Zoo's new bird show has claws. The close-encounter display features birds of prey including owls, hawks and falcons – and they are all raising money for conservation.
The free twenty minute Winged Wonders show is delivered by the Devon Bird of Prey Centre supported by Zoo volunteers. Birds flying include barn owl, Harris hawk and American kestrel.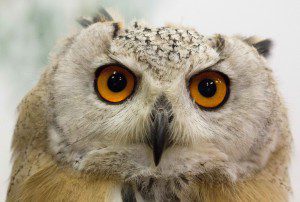 Unusually, the show takes place indoors, in the Zoo's Animal Encounters theatre.  While the display is free to view, there's a collection afterwards for bank cormorant conservation in South Africa – and nearly £3,000 was donated in the three months from April.
Paignton Zoo spokesperson Phil Knowling: "To mark Paignton Zoo's Year of the Bird, the bird show has been revamped with new species and a new approach for an even closer encounter. It's spectacular stuff – you can feel the birds' wings as they skim above your head, fanning your hair as they pass!"
Karen Andriunas, from the Devon Bird of Prey Centre, based at Fermoys Garden Centre near Newton Abbot, said: "It is unusual to fly birds of prey indoors, particularly at such close proximity. Each bird is a star in its own right, but visitors love the Harris hawk and the Western Siberian eagle owl.
"One of the newer birds, Teasel, is a buzzard, a species that's no longer commonly seen in flying displays – many have commented how nice it is to see one up close. Our young crested caracara Aztec is quite unusual; we are hoping to expand on his display skills over the summer as he is very intelligent.
"We are really enjoying the new challenge of flying birds at Winged Wonders and it is lovely to be receiving such a positive response. The birds are amazing and it is a privilege to provide the close encounters experience for Paignton Zoo."
The bird show has long been one of Paignton Zoo's most popular features. Volunteers are closely involved and love getting the chance to help fly the birds. Winged Wonders runs three times a day until Sunday 6th September. Paignton Zoo Environmental Park is a registered charity. For more information go to www.paigntonzoo.org.uk or ring 01803 697500.
Keep up with what's happening around Torbay and South Devon by joining us on Facebook:
[do_widget "Facebook like box (jetpack)"]