Police are investigating a robbery which took place in Fore Street, Brixham last night.
Fore Street was closed by police over night but has since reopened.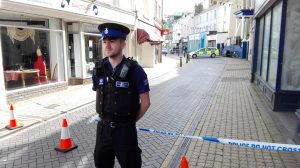 Between 10.30pm and 10.45pm a G4S security guard, aged in his fifties, was approached by two men, one of whom assaulted him causing him an arm injury.
The suspects made off with a cash box containing in excess of £5000.
The security guard was accompanied by a colleague who was not hurt during the incident.
The suspects are described as two white men, both wearing hoodies. One wore dark bottoms the other had light bottoms on.
Anyone who witnessed the incident, may have seen the suspects in the area, or has any information is asked to call 101 or email 101@dc.police.uk.