South Hams District Council's free Business Voice Forum held on Thursday 14 January, has been hailed as a great success by all who attended.
A varied range of businesses, including retailers, caterers and consultants, were present at the forum to listen to an excellent mixture of speakers.  In attendance was SDHC's Executive Director and Head of Paid Service, Steve Jorden, alongside the Leader of the Council, Cllr John Tucker, who warmly welcomed the guests.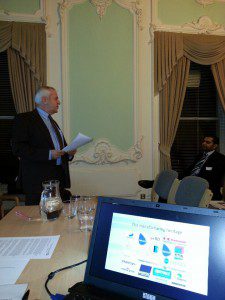 David Rowe, Managing Director of Applied Automation, was an engaging presenter, sharing a wealth of knowledge of the manufacturing industry.  Followed by accomplished baker and businesswoman, Dotty King, who explained delightfully how she made 'Dot-Teas' a great cottage industry business.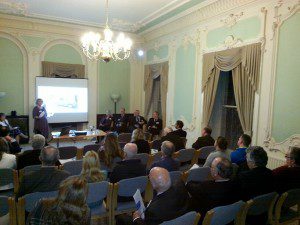 Andy Wadkin, Red Earth Kitchen, Kingsbridge said: "The Business Voice Forum is a great opportunity to gain access to resources, an excellent help to our small independent business."
The forum was planned following previous discussions with the business community and by carefully listening to what their particular needs and interests were.  This approach meant that each speaker could offer help and advice tailored for local businesses. 
Amongst the attendees was Becky Smith, Technical Manager, Langage Farm Dairy who said: "I have made some useful contacts during the evening that I will now use to develop our business further. The evening was interesting, well organised and covered a wide range of information helpful to local businesses. It was good to hear from another manufacturer who is also passionate about promoting manufacturing in the south west in order to grow the local economy. I thought Dotty's presentation on her start-up business was great, finding out the challenges that she came across and how she coped with the changes in her life in order to make her new business a success was really interesting.  I look forward to the next forum event and will now follow the Council on Twitter and Facebook in order to keep up to date with local events from the Council."
Council information and support was also available in the form of detail about the Consumer Rights Act from Devon County Council's Trading Standards Compliance Manager, Mark Peacock and a presentation about the types of business rates relief currently available, from Lisa Buckle of SDHC's Finance team.
Fleur Barr, Environmental Health Specialist for South Hams District Council said: "The first business Voice event in South Hams for 2016 was a great success and the feedback from the business community was very positive.  Businesses enjoyed a range of topics and also had the opportunity to network face-to-face with others in a warm, friendly environment. 
If you would like further information about the next Business Forum which is planned for the end of June, please email at: Fleur.barr@swdevon.gov.uk .