Welcome to the business zone. We will be meeting businesses around South Devon and finding out about who they are and what they do..
Here, we meet 'Flossy and Jim'. We hand over to them, to tell you a little bit more about their business:
---
Hello! We are 'Flossy and Jim' and we live in a colourful seaside harbour.
Our aim is to make the world a happier and sunnier place with our illustration and designs.
Lynette (Flossy), recently graduated from the University of Plymouth with a BA (Hons) degree in Illustration, and previously studied fine art at the Swindon College of Art.
If you need a bright, punchy image for your business, and want to be noticed, you have come to the right place!
We would be happy to meet you, or chat on the phone to discuss your requirements.
You can also find us in our shop/studio in the Palladium Arcade in the beautful town of Dartmouth. Please do pop in and say hello!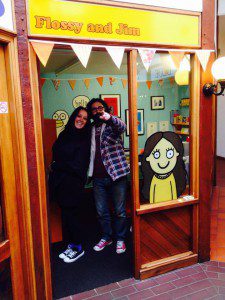 The 'Unicorn Power' range is brand new, and will be coming to our website and Dartmouth shop soon.  Our 'Be Happy' range is available from our website http://www.flossyandjim.com  or from our Dartmouth shop right now!
Please feel free to have a rummage through our website: www.flossyandjim.com, to see what we can offer you!
If you would like to contact us, please use the form on our website.
If you would like to get to know us better and keep up to date with what we get up to, please visit our blog: www.flossyandjim.blogspot.co.uk.
We hope to see you there! Thanks for popping by! Flossy and Jim XX