Three men were jailed today at Exeter Crown Court for the production and supply of cannabis.
Altin Laska, 27, from Exmouth, Mircea Rusu, 24, from Exeter, and Nicolae Pasc, 25, from Exeter, pleaded guilty to committing drugs offences between 1 January 2015 and 20 August 2015 following an operation run by Zephyr.

Laska was sentenced to five years in prison,  Rusu and Pasc both received twelve month sentences.
In 2015, Operation Cesta uncovered a conspiracy to supply cannabis using Vietnamese nationals to cultivate the plants at grow sites in the South West.
In total four factories were found in Exeter, Newton Abbot, Dunkeswell and Minehead and over 1,500 plants in varying stages of growth were seized, believed to be worth more than £400,000.
On 24 June 2015 Rusu and Pasc, who are Romanian nationals, were stopped in the West Midlands with just under 7kgs of cannabis in the boot of their car, with a street value of £48,000.
They had previously met with Laska, an Albanian man with UK residency, in Exeter. On 16 July 2015 Laska passed just under 4kgs of cannabis to another man, who was subsequently stopped by police.
On 31 July 2015 Laska was arrested at his home address in Exmouth.
Also at that address were two men who were in the country illegally. Shuaip LLapri was found in possession of a Taser stun gun. Following remand in custody LLapri and an 18-year-old man were later deported. LLapri served a six-month sentence for the possession of a Taser before being deported. He was sentenced in late October 2015.
The 18-year-old man was deported in August 2015 having been arrested with Laska and Llapri at Laska's address in Exmouth.
Eight Vietnamese nationals have been detained as a result of the operation, two at large cannabis farms. Of the eight detainees one awaits trial, one has been sentenced to 15 months imprisonment for cultivation, one is being supported as being potentially trafficked and the others remain within the immigration assessment process.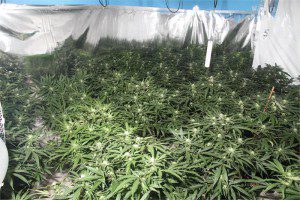 Detective Inspector Austin Goss, from Zephyr, the South West Regional Organised Crime Unit, said: "The set-up of these farms was very sophisticated and organised and the harvesting of such large amounts of cannabis plants was frequent."
"Organised crime groups can make large amounts of money from such activity and as a result people can get exploited and violence is often used to control the share in the market. The effect that we have had on this group shows that crime actually doesn't pay."
"Our operation has had a significant impact in helping to disrupt the illegal drug activity in the area. I would urge the community to continue to work with us and report issues, safe in the knowledge that we will take matters seriously."
A fourth man has been charged with conspiracy to produce a controlled drug and is due to stand trial in June 2016.