Accompanying a full paying visitor – adult or junior.
We are passionate about inclusion for those with disabilities and sensory needs and it is a subject personally close to the heart of some of our directors.
We aim to make The Bunker Indoor Golf & Multi-Sport Centre an environment for everybody to enjoy and we currently have many visitors with different abilities and their carers returning to enjoy our INTERACTIVE MULTI-SPORT SIMULATORS
Being an indoor all weather setting, guests to The Bunker don't need to contend with some of the sensory issues that arise from the elements. No rain or wind to overload the senses and a private bay upon request to ensure a feeling of safety and security.
We really do have something for everybody! (including FREE PARKING).
Premier Football challenges or play at your favourite teams stadium!
Racing – so many cars and tracks and styles of racing to choose from you will never get bored – perfect for the car and racing enthusiast!
Foot Golf is loads of fun and can be tailored to different abilities – it really is a prefect activity for anybody who struggles slightly with their movement and/or co-ordination,
We also have Foot Darts, Rugby, American Football and CRAZY GOLF which can be a little tricky but fun for those that enjoy a challenge.
Of course JUNIOR GOLF is always an option too!
Our simulators can be turned down to a lower volume if our guests & carers would prefer and we have an extremely private bay that can be requested if guests feel more relaxed tucked away from other visitors. ALL EQUIPMENT IS PROVIDED.
The nature of the various activities at The Bunker have different ability ranges and settings so we hope all our visitors can feel a sense of fun and success!
The Bunker Indoor Golf is a brilliant destination for any of your groups too!
Book exclusive hire of the Bunker Indoor Golf & Multi-Sport Centre and be assured totally privacy and a relaxed setting for your group your carers.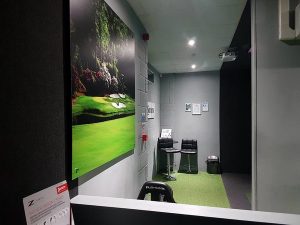 Unfortunately due to the layout of the building -that we are not permitted to change – there is no wheelchair access into the bays however there is access into our shop and reception area and we have a fully accessible disabled toilet.
Please show your CARERS card upon visiting us. Unfortunately we can only accept a carers card.
If you would like to find out more about EXCLUSIVE HIRE or group bookings then please get in touch thebunkerindoorgolf@gmail.com or CALL 01626 906574
If you would like to book a bay and have any requests that would make your visit easier or have any questions we will always take the time to help just ask!
We look forward to welcoming you to The Bunker!
You can join us on our social media pages, follow us on Facebook or Twitter and keep up to date with whats going on in South Devon.
Got a news story, blog or press release that you'd like to share or want to advertise with us? Contact us