Caught on camera this summer at Paignton Zoo…
First, what's black and white and red all over? A zebra that lives on the beautiful red sandstone soils of South Devon. Male Hartmann's mountain zebra Urias rolls on his back and waves his red-tinged hooves in the air at Paignton Zoo Environmental Park.

The species is classed as Vulnerable; there is a European Endangered species Programme (EEP) as well as co-operative management of zoo populations world-wide.
Meanwhile, the Zoo's Asiatic lions were playing a slightly more painful game, with young female Maliya trying to bite the tail of male Lucifer. Let's hope he likes his partners feisty…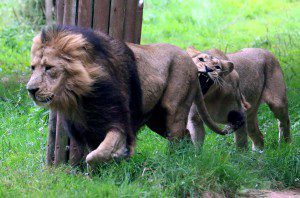 The Asiatic lion (Panthera leo persica) is listed as Endangered; there is an EEP for this species, too. Paignton Zoo Environmental Park is a registered charity. For more information go to www.paigntonzoo.org.uk or ring 01803 697500.