A coastal conservation charity is helping young people to face the natural world with more confidence by organizing close encounters with some amazing creatures.
Clare Rugg, from Living Coasts, Torquay's coastal zoo and aquarium, explained: "There's a big emphasis these days on getting kids outdoors, inspiring a love of the natural world and letting them get to know their local environment. But when it comes to our seas, recent scares about stinging jellyfish don't help. We want to increase understanding and break down some of the misconceptions surrounding our sea-life.
"It's important for children to learn about these species, both from a conservation point of view and to stimulate their sense of wonder. Close encounters dismantle the fear and ignorance. Experiences are vital – and if you get your hands dirty, well, so what?
"You should respect our seas and everything that lives in them, but that doesn't mean you should be too scared to go near the water. We need people to understand the underwater world, or else species will die out because of our ignorance."
As an education charity, Living Coasts welcomes organized school groups on site and takes outreach sessions into schools. Another approach is to offer people close encounters with some of the zoo's animals. Living Coasts arranges close encounters with penguins, seals, otters, stingrays and octopus for anyone over the age of 8 years.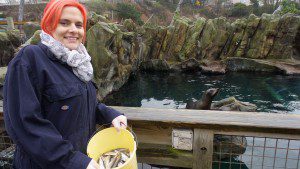 Clare again: "With the penguin experience you prepare fish then feed them to the birds. You might leave smelling a bit fishy, having had a penguin stand on your toe, but you can learn so much about these incredible birds by spending time with them and their keepers."
The same goes for the seal and otter experience. "We want kids to be inspired by their close encounters. They'll find out about animal husbandry and enrichment, maybe get a bit messy but go away knowing more and being excited about wildlife."
You can do something similar with the blue spotted rays swimming in the underground Mangroves exhibit and the octopus down in the depths of the charity's aquarium. All the encounters help to raise money for the charity.
Children and adults can also spend time with a keeper to experience a little of their working day. "Being a zoo keeper involves rolling your sleeves up and getting stuck in to things like food preparation and cleaning, so you have to be prepared to get your hands dirty!"
You must be over 16 to do the grown-up keeper experience – the junior version is for young people between the ages of 8 and 15. "We want to inspire the next generation of zoo keepers and conservationists. For the right people, these are the most amazing and rewarding professions – and we have never needed conservationists so much as we do today!" For more information go to www.livingcoasts.org.uk or ring 01803 202470.