A golden Labrador was rescued from rocks in Torquay today after he was swept out to sea.
The incident happened just after 1pm this afternoon in Babbacombe.
Teignmouth Lifeboat rescued the dog and took him back to shore with the help of Torbay Coastguard.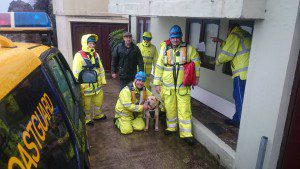 Torbay Coastguard said:
"We were tasked by Solent Coastguard (NMOC) to ensure the public's safety after reports came in of a dog in the water at Babbacombe Pier.
"Team members first on scene comforted the dogs owner, ensured public safety and guided Teignmouth Lifeboat to the dogs last known position.
"Teignmouth Lifeboat quickly located the dog on the rocks and recovered him to awaiting team members on Babbacombe Pier, who reunited the dog with it's owner,"