Cockington's beautiful lakes are a massive leap closer to transformation. The much needed renovation of the lakes began last week following a seven month period of preparation by a group of dedicated volunteers and helpers, enabling the trust to get this vital stage in the project.
In August all the resident carp and other fish that occupy the ponds, were removed and rehomed to surrounding lakes. Some of the vegetation immediately around the ponds was cut back to facilitate the planned work and allow the restoration of the historic landscaping and planting in the surrounding areas.
Some parts were badly overgrown with brambles and scrub which have now been cleared to allow the horticultural specimen plants to grow, as well as open up the views across the lakes.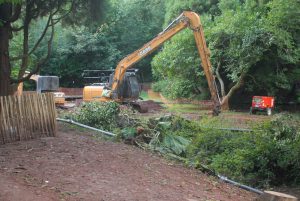 Contractors arrived early last month and have now begun work on de-silting and draining the ponds, and repairing the dams. They have constructed a series of terraces in the fields, up the valley, above the lakes, where the silt will be pumped to. The top pond is the first to be de-silted followed by the lower pond, and lastly the middle pond which has the most silt.  Since the ponds were last de-silted in the 1970s, a thick layer of silt has built up in each of them. This silt is suppressing the flora and fauna and reducing the aesthetic appeal.
Damian Offer, Director of Torbay Coast and Countryside Trust said:
"This silt will be removed from the three ponds which will then be drained down. Repairs will then be made to the dams to ensure that they are structurally sound. Given the scale of the works, it will be impossible to avoid any damage to the landscape around the ponds.  However, we will try to minimise this and included within the project is the resource to help it recover with new landscaping and plantings. The ultimate goal is to return the Lakes to something approaching their former glory as the 'pleasure grounds' created by the Mallock family. We also aim to provide a much healthier environment for a wider variety of fish and other wildlife".
The Trust is working closely with the contractors to minimise disruption, however some of the paths around the lakes may have to be closed off for safety reasons, at different times and would like to thank visitors and residents in advance for their understanding and support whilst this work is carried out.
The work is expected to be completed by Christmas this year, and follow on landscaping will continue up until March 2017.