A major regional conservation charity has made a key appointment. The Whitley Wildlife Conservation Trust is the charity behind Paignton Zoo, Living Coasts in Torquay and Newquay Zoo in Cornwall. The Trust's new Director of Guest Services is Helen Warren, who has come to the Trust from the University of Exeter Students' Guild.
The new role encompasses the charity's trading company, visitor services and front of house activities. Executive Director Simon Tonge said: "Helen has a strong background in operational and strategic roles in retail, catering, licensing, entrepreneur support and organisational development."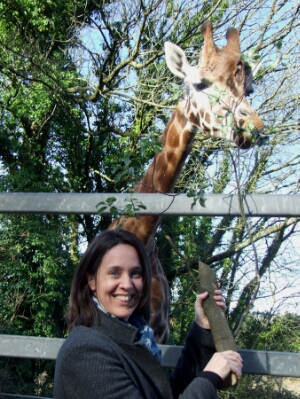 She certainly has all the credentials for the role, with experience of the catering and retail trade, an interest in conservation and – hailing from Cornwall – plenty of local knowledge.
She spent 16 years working for the University of Exeter Students' Guild with operational roles in licensed trade and latterly overseeing a range of catering and retail operations. She started as an Assistant Bar Manager and ended up as Director, so – having worked her way up through the ranks – she is very definitely not a theoretical management technician being parachuted cold into a department, but rather someone who has done it all, got her hands dirty and learned from the inside.
She is also a keen conservationist. "I've always had an interest in both animals and conservation. I was lucky enough to do work experience with a National Trust warden as a teenager and that really ignited a passion for all things environmental which has never left me. Plus, growing up watching David Attenborough documentaries leaves a lasting impression."
Helen has South West roots. "I grew up in Cornwall and a lot of my family are still there, so I'm delighted that my role incorporates Newquay Zoo." Having lived and worked in Exeter for many years, South Devon is not new to her. But working in a zoo – or rather, three zoos – definitely is. What are her first thoughts on working in a zoo? "It's already exceeded my expectations, hearing lions roar from my office was not something that I expected but is amazing, if not a little distracting…"
Her reasons for taking this job are simple. "I've always worked in commercial roles within the charity sector and enjoy developing commercial strategies that encompass the wider objectives of that charity. As I have a keen interest in the conservation of species and habitats, this new role is perfect for me. I'm looking forward to being part of such a dynamic team and developing the Guest Services department across Paignton Zoo, Newquay Zoo and Living Coasts.
"My goal is to ensure that we develop our Guest Services across all three sites and continue to grow our offer. Paignton Zoo, Newquay Zoo and Living Coasts are such wonderful places to visit already and I want to build on that and make sure that we continue to listen to our visitors and develop in line with their needs. I also want to promote the work of the Whitley Wildlife Conservation Trust and highlight to our visitors that the money they spend with us goes to such incredibly worthwhile projects. This is a unique working environment and I feel very privileged to be here."
In her spare time Helen plays hockey for Exe Hockey Club and enjoys photography. She completed a John O' Groats to Land's End bike ride in 2010, helping to raise £5,000 for a local hospice.For more information go to www.paigntonzoo.org.uk or ring 01803 697500.
For more community news and info, join us on Facebook: We Are South Devon or Twitter: @wearesouthdevon