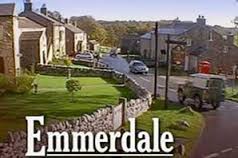 If you lived in Wetherfield or Brookside Close and wanted a new start, or maybe just a holiday, where would you go.
For Coronation Street's Elsie Tanner and the Brookside gang, the answer was Torquay.
The Coronation street plotline that brought Elsie to the Bay featured Joe Lynch (1925-2001), an Irish actor who first played Harold Digby on Coronation Street in 1975. However, Joe is perhaps best remembered for his role in the 1967-1971 sitcom Never Mind the Quality Feel the Width as tailor Patrick Kelly.
Joe returned to Corrie as Ron Mather from 1978 to 1979. He played an Irishman who had worked on the markets and had tried emigrating to Canada. As well as being a championship ballroom dancer, he liked a flutter on the horses. He worked as a self-employed taxi driver and one of his fares in August 1978 was Elsie Tanner. They fell in love following the break-up of her third marriage.
Tiring of life as a taxi driver, Ron found a job as a chauffeur to a Mr. Frazer who had made his fortune as a Manchester industrialist and had then retired to Torquay. Ron persuaded Elsie to apply to be Mr. Frazer's housekeeper. At the last minute, Elsie backed out. Even the sight of Ron driving a Rolls Royce couldn't tempt Elsie to the English Riviera.
In November 1979, Ron cropped up again, and this time Elsie agreed to take up the still-vacant housekeeper's job. Gail was getting married to Brian, and Ron agreed to give her away. But Mr. Frazer said he was needed that weekend. Elsie left for Torquay with Ron, planning to return for the wedding, though she fell ill and couldn't attend either.
Yet, we all knew that Elsie would return to Wetherfield. She finally left Torquay because Frazer had been sexually harassing her, and came back on Christmas Eve 1979. Ron begged her to stay in Torquay with him, but he had turned a blind eye to Frazer's behaviour in order to keep his job. Elsie ended their relationship and told him to leave.
The people of Liverpool have for generations holidayed in Torbay and it was understandable that the residents of Merseyside's fictional Brookside Close would look to Devon for their annual vacation.  Brookside began on the launch night of Channel 4 on November 2, 1982, and it ran for 21 years until November 4, 2003. There were 22 seasons and 2915 episodes.
Brookside became notable for its tackling of socially challenging issues. It was particularly well-known for being the first soap opera to show a pre-watershed lesbian kiss, a consensual incestuous sexual relationship, an openly gay character, and realistic drug addiction.
In a 1982 Episode (No. 361), written by Jimmy McGovern, four of its characters – Harry, Ralph, Julia and Madge – enjoy a holiday in Torquay. They are seen travelling by train to Devon and then in a variety of locations across town.
In 1991, Kevin Carson asked if his character, footballer Geoff Rogers, could be killed off. As two other characters had already died that year, the producers decided he should leave on a more upbeat note. Geoff went off to join Torquay United.
Sometimes Soap actors make the journey in the other direction. Zachariah Bartholomew Dingle is a scrap man, pig merchant, dodgy schemer and the patriarch of Emmerdale's Dingle family. It was in Torquay that Steve Halliwell, the actor that plays Zak, realised that he wanted to act. He had left school, and spent time travelling and then doing different seasonal jobs in town:
"I was searching for something and it seemed there was something more I could do with my life, but I wasn't quite sure what…"  It was after a summer in Torquay spent "boozing and chasing girls" that Steve decided to change his life:  "When all my friends went back up north, I stayed in Torquay. I was sitting in the library and saw a copy of The Stage for the first time. There was an advert for part-time drama courses at Mountview Theatre School in London. I worked for a few more months in Torquay and then went to London…"
The rest is soap history…