Update: The cow has moo-ved and the road is clear.
A cow on the loose is causing delays on Marldon Way (A380)
The cow is reported to be around the Preston Down Road roundabout.
Traffic is heavy in the area, expect some delays. Police have advised to approach with care.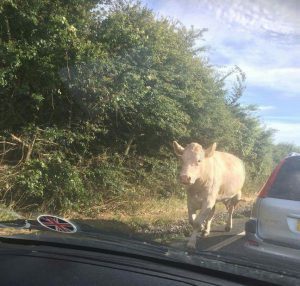 Naturally, the warning led to a number of puns on Spotted Torquay including:
"Are things mooooving yet?"
"Hopefully the farmer will moove it soon.. He might have have herd it's on the loose."
"This is an udderly ridiculous situation.."
"At least it won't be friesian on such a warm day."
"Try to get to the udder side."
"I herd there was more than one."
For more local news and info, go to our home page or you can join us over on Facebook or Twitter.