Fire crews rescued a cyclist this afternoon after he became trapped in water.
The incident happened around 3pm today at Jetty Marsh. The man had been cycling and is thought to have slipped into the water.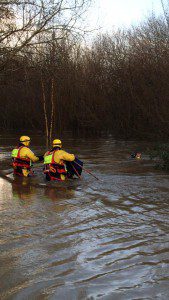 Fire crews from Newton Abbot and specialists from Camels Head and Exmouth attended.
The man, who was stuck in water up to his shoulders. Was rescued by crew in dry suits.
A spokesperson for Newton Abbot Fire Station posted on social media:
"Upon arrival we were met by members of the public who guided us to a man clinging to a tree in flowing water up to his neck.
"Two crew members dressed in dry suits were readied and as soon as down stream safety crews were in place, entered the water as far as they could safely reach. Due to the depth and flow Fire Fighter Jordon Leaman then used a throw line.
"The man was able to hold onto the line and was pulled to safety. It was at this point that we realised he was still attached to his mountain bike.
He was assessed by an ambulance crew and apart from being wet and cold was fine.
Luckily this rescue was successful. Please could we remind people not to walk, cycle or drive into any flood water. Even still water has hazards which are submerged and not obvious on the surface. Our crews use wading poles to assess every step before proceeding.
[fb_embed_post href="https://www.facebook.com/bbcspotlight/videos/1077300812335416//" width="550″/]