Volunteers from Dartmoor Search and Rescue teams have returned home after helping victims of the flooding in York.
49 volunteers from Dartmoor Search and Rescue teams travelled up to Yorkshire on the 27th December, taking a boat and eight 4×4 vehicles with them. They returned at 3.30am this morning (30th December).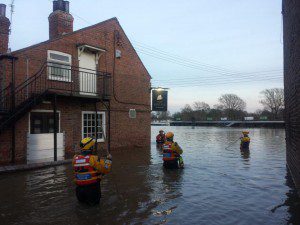 Dave Underhill, an Ashburton team search manager deployed to York said:
"We have been given such a warm welcome by the people of York and we have been deeply touched by their generosity towards us. We hope that our deployment has been of help to the local community and that we have made a positive difference to them, helping them to get through the awful flooding they have endured. We thank them and wish them well with the task of getting their homes and business back to normal over the coming months".
"We'd also like to thank all of you for the hundreds of messages of support that the team has received over the last few days on Facebook and Twitter. We really appreciate it. Our volunteers returned to Devon and their families at 03:30 this morning with kit packed away already for the next callout and wet kit hanging in the drying room."
"They  couldn't do what they do without the support of their families and we would like to thank them for being the rock behind our members. They put up with the disruption to family life and rarely get the public recognition they deserve. A very big thank you to them all."
You can donate online to Dartmoor Search and Rescue (Ashburton) by clicking the link:
http://uk.virginmoneygiving.com/charity-web/charity/finalCharityHomepage.action?uniqueVmgCharityUrl=dsrtashburton