Why I Post Breastfeeding Pictures and How They're So Important to New Mums
So, let me get this straight. I'm not an attention seeking fame hungry Z list celebrity. I am generally a person who likes to live her life in the relatively peaceful confines of her family and friends. But I am a breastfeeding activist, and to me it is really important to share news of the way breastfeeding in public is perceived and discussed.
Discussion about our natural world is vital; scientists don't discover new things by sitting around, ignoring what is in front of their eyes. Politicians don't really get anything done at the best of times, but how are we to know how today's society is feeling about political issues unless there is discussion and even protest?
Hang on in there, people, there is a point to these "brazen" breastfeeding posts.
Just under a year ago, I was travelling with my three children on a local bus in Paignton. My then 8 month old baby began screaming. The bus was full, standing room only, and it was school kick out time so there were lots of young adults on the bus. Feeling nervous, I lifted my top up in order to feed my screaming child. I figured that a quiet breastfed child would be less offensive than a yelling, hungry one. How wrong was I? For the half an hour that followed I was subjected to a barrage of abuse from the young men who should have known better, called a slag and countless other insults.
I did get an apology, yes. I did forgive them because I figured that they just weren't used to seeing a young woman breastfeeding. Perhaps their perceptions were that way because they have not been educated by their parents, the school or the media. After thinking about this extensively, I decided that I would become an activist for the breastfeeding-in-public cause.
As a college student hoping to embark on a midwifery degree, I knew that there was a fine line between becoming one of those "pushy" pro breast feeders (which actually there's a small minority, and for the most part, are merely very passionate about helping women) and scaring women away from actually breastfeeding with negative stories in the press about how mums are stereotyped and called out on. Our breastfeeding rates in the UK are as follows:
"The breastfeeding initiation rate was 73.9% in 2012/13, which is similar to 2011/12 (74.0%)
and slightly higher than 2010/11 (73.7%), 2009/10 (72.8%) and 2008/09 (71.7%).
The prevalence of breastfeeding at 6-8 weeks in 2012/13 was 47.2% of infants due a 6-8 week
check, the same as recorded in 2011/12."
(From the Department of Health website, https://www.gov.uk/government/uploads/system/uploads/attachment_data/file/206553/Breastfeeding_Statistics_2012-13.pdf)
Basically, the amount of people continuing breastfeeding after 6-8 weeks takes a dramatic plunge. Why is this?
The NHS recommends breastfeeding up to and beyond six months of age. The World Health Organisation (WHO) advises breastfeeding up to and beyond the age of 2 years. Are mums nervous about feeding in public? Is there a lack of support? Or a medical issue that has not been picked up so far?
Torbay is lucky- we have an amazing network of Breastfeeding Peer Supporters, as well as a hospital which has specialist staff to pick up on medical issues such as tongue tie, with the ability to fix these issues. I feel that breastfeeding in public gets a negative response in the media. We read so many stories of women having had bad experiences(myself included), now it is time to regard the positive ones, to let new mums everywhere know that maybe, just maybe, breastfeeding in public is becoming much more of a non-issue, less of a taboo. The Spotted Torquay post that I sent in really has changed the way that I feel about public breastfeeding.
So, for almost a year, I've been really careful about breastfeeding in public. Terrified that I would be abused again and alienated for feeding a toddler. Yes, I am aware that The Equality Act 2010 protects me from discrimination while breastfeeding in a public place. In theory I am protected. In practice it can be a completely different ball game.
I knew my 20 month old needed some comfort, the crowds made her nervous, so it was crunch time. Thousands of people around me, and in close proximity, made me very nervous. However, the response to me feeding my little girl was actually wonderful. The "Aww"'s and "ahhh, how sweet" comments, within a group of people I observed to be a part of a very big, welcoming community, was heartwarming.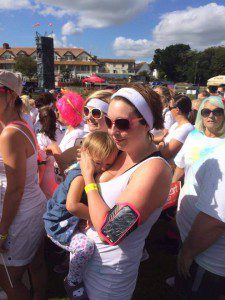 I'm certainly no "maverick", nor am I a "breastfeeding Nazi", but this lovely experience needed sharing, not just to highlight and normalize breastfeeding but also to show how far I feel public perception of feeding in public has become. I for one am very proud. I want every mum to be proud of her choices and educated about parenting so that they may feel empowered and inspired.
There are some lovely groups on Facebook for breastfeeding mums, and I simply can't close an article about breastfeeding without mentioning Action for Children and their amazing work, especially the breastfeeding peer supporters there who volunteer, giving their time and knowledge to mothers who need it.
A huge well done to all of the participants of the Colour Rush 5k for Rowcroft Hospice too. It was a brilliant event and everybody had a lot of fun.
Thankyou Torbay! You have done me proud!
Keep up with what's happening around Torbay and South Devon by joining us on Facebook:
[do_widget "Facebook like box (jetpack)"]