Dennis Wheatley (1897-1977) wrote more than 70 books and sold in excess of 50 million copies in 28 languages – his fans included King George VI and Winston Churchill. His books, however, have pretty much disappeared from our bookshops. Today, they seem old-fashioned in their focus on Royalty, Empire and the class system. They can also be offensive in their views on race, with Wheatley also seeming to equate physical disability with evil. He was, nevertheless, one of Britain's most popular authors in his day.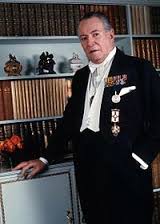 In his autobiography Wheatley (pictured above) describes how, early in his writing career, he looked for a new focus: "I tried very hard to think of a subject for my next book that would hit another high spot. It then occurred to me that, although in Victorian times there had been a great vogue for stories of the occult, in the present century there had been very few so I decided to use the theme of black magic."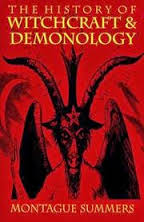 Not being particularly knowledgeable about the topic, he undertook research to make his books authentic. In particular, he focussed on three individuals: Montague Summers, an Anglican priest who converted to Catholicism and became an 'expert' on witches, vampires and werewolves; Rollo Ahmed, an Egyptian who had visited the Caribbean where he became interested in voodoo; and Torquay's own most notorious resident, the mystic and magician Aleister Crowley.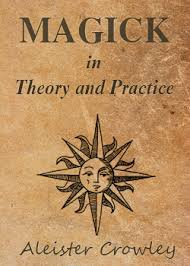 Wheatley's introduction to Aleister came in 1934 via his neighbour Tom Driberg, a Labour MP, MI5 agent and socialite. The 37 year old Wheatley invited Aleister, then aged 59, to lunch at the Hungaria restaurant near Piccadilly Circus. Later, Aleister presented Wheatley with a copy of his book 'Magick in Theory and Practice', inscribed with the note, "In memory of our sublime Hungarian banquet." Never modest, Aleister also stuck a passport-sized picture of himself on the title page, with "The Beast" written above it and the number six on the other three sides, signifying 666, the number of the Beast.
Wheatley's grandson Dominic remembers, "I think Dennis was fascinated to meet Aleister Crowley. He had a terrible reputation. But he was not in any way a fan and they never struck up any kind of relationship. There were rumours that Crowley had murdered his own son and all sorts of funny things that may or may not be true."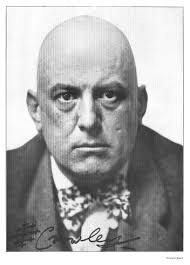 Wheatley certainly took Aleister (pictured above) seriously. He thought that the magician possessed occult powers and had really succeeded on at least one occasion in summoning the god Pan.
'The Devil Rides Out', the first of Wheatley's eight black magic novels, was published in the same year as his meeting with Aleister. The author even felt the need in the introduction to warn his readers against imitating the satanic practices he depicted: "Should any of my readers incline to a serious study of the subject and thus come into contact with a man or woman of Power I feel that it is only right to urge them, most strongly, to refrain from being drawn in to the practice of the Secret Art in any way. My own observations have led me to an absolute conviction that to do so would bring them into dangers of a very real and concrete nature."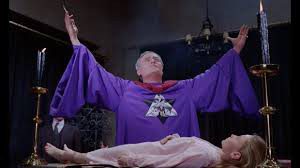 'The Devil Rides Out' was made into a movie by Hammer Film Productions in 1968. Known as 'The Devil's Bride' in the United States, 'The Devil Rides Out' was directed by Terence Fisher and starred Christopher Lee and Charles Gray. The story relates how the Duc de Richleau (Lee) rescues his friend Simon Aron from a devil-worshipping cult. The group's leader, Mocata (Charles Gray, pictured above), is, of course, based on Aleister. At the end of the film, goodness triumphs and the evil villain is eternally dammed for summoning the Angel of Death: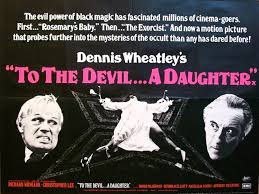 Another of Wheatley's books was turned into a movie in 1976, this time starring Richard Widmark. 'To TheDevil a Daughter' controversially featured an exploitative full frontal nude scene involving a 15-year-old Nastassja Kinski. When he saw the finished film, Wheatley called it "obscene" and vowed never to work with Hammer again. In a reversal of his earlier Wheatley role, Christopher Lee features as a Crowleyesque evil priest running the Children of the Lord, a group of practicing Satanists who are planning to turn a young nun into an avatar of the demon Astaroth:
…