Children and older people in Torbay are managing to stay in contact with each other despite the current COVID-19 shutdown affecting everyone.
Over the last couple of years, around twenty care homes in Torbay have been receiving visits from childminders and early years providers as part of an early years intergenerational visitation programme led by Torbay Council's Early Years Advisory Team.
The team also worked in partnership with Warberries nursing home to develop a pioneering model of intergenerational co-location in which Childminders and their children were sharing an intergenerational space with older people enabling children and residents to come together on a daily basis to benefit from each other's company through learning together.
Councillor Cordelia Law, Cabinet Member for Children's Services for Torbay Council, said: "In Torbay we are committed to working with all our partners to improve the wellbeing of both children and older people in the area and this groundbreaking scheme that's been up and running for a little while has made a real difference.
"While sadly this has had to temporarily stop, despite this, the magic of technology is helping to keep some care home residents and children in touch, like young Noah who is looked after by Torbay based childminder Michelle Reeves and is continuing to talk via Skype to residents at Warberries care home. (picture attached)
"Helping care home residents to interact with children is evidence based and shown to improve confidence, wellbeing and self-esteem for both the children and the care home residents and I hope that we are not only able to resume the work we were doing once the shutdown is over, but also continue to expand the scheme with more care homes and childminders in the area."
Parents are pleased that their children have been supported to stay in touch with their elderly friends. Noah (who features in the video)'s mum said: "Noah loves to tell us all about his Skype sessions with George – how funny he is and how much he makes him laugh. We love to hear how Noah is still interacting with people even when he can't visit". You can watch a video of Noah talking to George via Skype here https://youtu.be/F2ACsvX2jEo
Other settings have also helped their children to communicate with residents sending pictures and photos in the post. Paula Button (Childminder) and her minded children Leo and Lila have been making "hugs in the post" (life size paintings of the children with their arms stretched out) to send in the post.(Pictured). Other children have sent video links and read stories to residents via social media.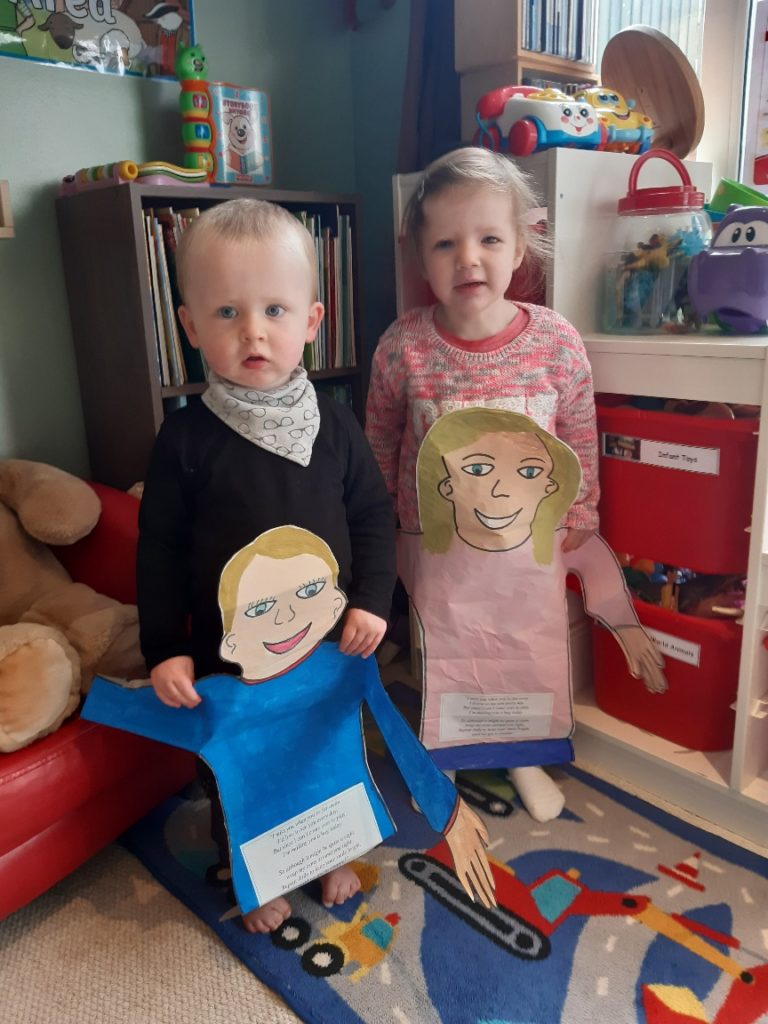 Tori Waite is a childminder from Paignton who is part of the Warberries intergenerational programme and she works from Warberries one day a week. She has been taking children to Warberries for two to three years prior to the programme starting and the children love going there. During the closure she has been recording the children reading a story for the residents and is now planning for her eldest child to read a Harry Potter chapter a day/week for the residents.
Graham Greenaway the owner of Warberries is pleased that childminders and children are staying in touch. Graham said: "It is so important that the contact between our residents and the children who came to Warberries before lockdown and attended the intergenerational project is maintained. Social media has been fantastic in keeping these vital human contacts".
Torbay Council's Early Years team has been leading the way on this work nationally and presented to an All Party Parliamentary Group meeting at the House of Commons to share learning from Torbay's work with care homes and nurseries, as featured in The Guardian
This innovative model of co-location which has been pioneered in Warberries nursing home Torbay, offers all the benefits of co-locating childcare and eldercare together yet is a more flexible and affordable solution for care home owners as it only requires the offer of a dedicated space for local childminders to use
Supporters of the scheme include Torbay Council, the Department for Education, the Improved Better Care Fund, South Devon and Torbay Community Grants Fund and sponsors Yellow Door.
If you run a care home or are a childminder and want to know more about Torbay's pioneering intergenerational project please email earlyyears@torbay.gov.uk
You can join us on our social media pages, follow us on Facebook or Twitter and keep up to date with whats going on in South Devon.
Got a news story, blog or press release that you'd like to share or want to advertise with us? Contact us