A dog was rescued in Torquay earlier today after getting into difficulty in the sea.
Onlookers said that the 'sandman' Geoffrey Ward who is often at the beach drawing in the sand, attempted to rescue to dog but was unable to reach him.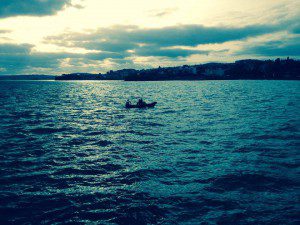 The Coastguard were called but a harbour patrol boat was able to get to the dog and recover him from the water before the coastguard reached the scene.
A spokeperson for Torbay Coastguard said:
"Full team page after several 999 calls about a dog in the water between Corbyn's Head and Princess Pier. The Springer Spaniel was recovered from the water by the Harbour authorities boat and reunited with the owner before we arrived on scene,"
The dog, called Bowie, is now back with his owner, who posted on Spotted Torquay:
"Bowie is home safe and sound now! I can't thank the coastguard enough for saving my little boy! I'll be forever grateful! After an eventful afternoon he's now curled up on the sofa having plenty of cuddles! I can not bear to think how tragic this afternoon could have been, I honestly thought I'd lost him. Thank you everyone for your support and kind words, thanks again to the Coastguard xxxx"
For more community news and info, join us on Facebook: We Are South Devon or Twitter: @wearesouthdevon