Dartmoor Search and Rescue Team (DSRT) Ashburton had a full team callout on Friday night to assist emergency services after a woman had fallen onto rocks.
The walker had suffered from multiple injuries after fallen approximately 20 metres onto rocks in the Upper Dart Valley.
Team members walked from the Newbridge car park with the necessary equipment into the casualty site on river left near Bellpool Island to assist paramedics who were on site.
The lady had sustained multiple injuries in the fall and was lying on rocks close to the river edge. It was quickly determined that assistance would be required from Rescue 924, the Maritime and Coastguard Agency (MCA) S92 search and rescue helicopter based at Newquay to relay the lady to hospital.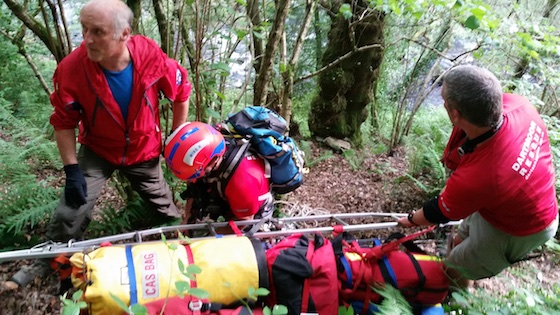 A spokesperson from DSRT Ashburton said:
"The casualty received medical care on site and was transferred onto our vacuum mattress as a precaution against any potential spinal or neck injury.
"Due to the narrow gorge and tree cover, a safe place needed to be found from which to winch the lady on to the helicopter. We train frequently in the area and had previously identified likely areas for winch evacuation.
"Members of our rope team rigged rope systems to help transport the casualty safely up the valley side on our stretcher to above the treeline from where the helicopter returned to winch the casualty onboard and onwards to Derriford Hospital,"
DSRT Ashburton Duty Search Manager said "The Dart Valley is always a challenging area to rescue people from, and this was quite a difficult one and took several hours. We wish the lady a speedy recovery."