A Devon woodturning club has produced an extraordinary clutch of wooden eggs for bird keepers at Paignton Zoo. Members of the Woodbury Woodturners Club have made 137 eggs, the smallest just a centimetre long, the largest around 20 centimetres.
It all started when Paignton Zoo's Senior Head Keeper of Birds Pete Smallbones discovered that Front of House colleagues Izzy Warren and Justin Fuller were doing woodturning as a hobby. Pete: "We were talking and the idea of turning wooden eggs for the Bird Department came up – and they really rose to the challenge!"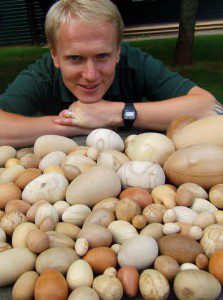 Pete initially asked for dummy flamingo eggs, but the woodturners ended up making eggs of all shapes and sizes. Woods used include yew, sycamore, beech and oak. A number of wood-turners contributed eggs, which took between 5 minutes and half an hour to make.
Bird keepers place dummy eggs in nests if real eggs are taken for hand-rearing.
Keepers sometimes remove eggs to incubate if they are important and if the keepers fear the parents might accidentally break them. When the egg starts to hatch it is returned to the parents.
Pete: "We now have a huge range of dummy eggs of different sizes – the smallest will be good for shamas, the larger ones will be ideal for ostrich or flamingo. We really do appreciate this pretty amazing gift!"
Paignton Zoo spokesperson Phil Knowling said: "The members of Woodbury Woodturners Club have helped our keepers with their important work rearing endangered species and caring for one of the largest bird collections in the UK. We'd like to thank them for their hard work and enthusiasm – the eggs are real works of art!"
Paignton Zoo Environmental Park is a registered charity. For more information go to www.paigntonzoo.org.uk or ring 01803 697500.