Campaigner Elber Twomey returned to Devon last week, almost three years after a tragic road traffic collision which led to the death of her husband Con, son Oisín and her unborn child.
Elber and her family, from Ireland were driving home from a holiday on July 6, 2012, when taxi driver Marek Wojciechowski, 26, deliberately drove into their car, causing a head on collision in Torquay, Devon.
Her visit was at the invitation of Chief Superintendent Jim Nye, head of Operations for the Force, who has maintained close contact with Elber since July 2012. The focus of Elbers visit was dealing with a driver with mental health issues and the risk of suicide.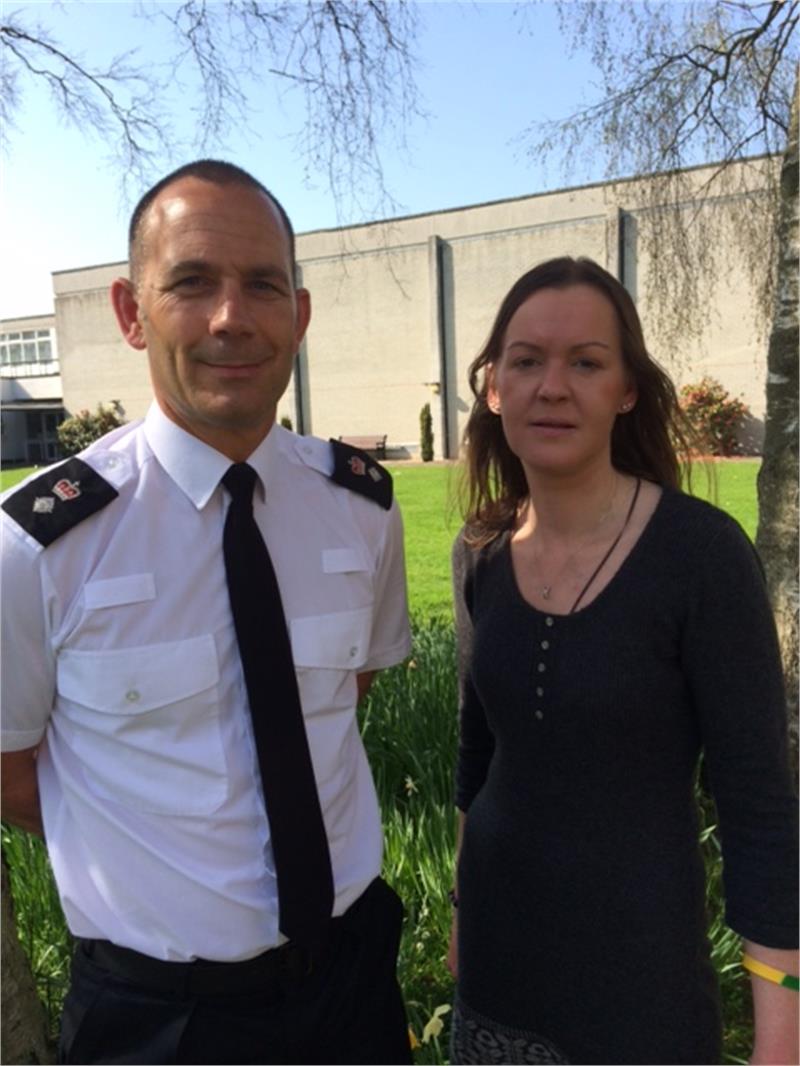 During the week Elber saw how the Force is training police officers to safely manage pursuits and has also spoken to staff about how she is working with the Garda in Ireland to raise awareness of how to deal with suicidal drivers and those putting themselves at risk of harm.
Elber said: "I am most grateful to Chief Superintendent Nye for his kind invitation to Devon and Cornwall Police to see the training that goes on for myself. I have been working with the Garda back home in training for police officers in suicide awareness and I think all police forces have learning in this area.
"I'm aware of the pressure a police officer is under when they are confronted by this issue and my campaign is aimed at raising awareness of the stigma that mental health causes. I honestly feel that training in suicide awareness is as much to help the police officer as indeed the suicidal person/driver they may encounter"
During the last three years, prior to the incident in which Elber and her family were involved, Devon and Cornwall Police has been reviewing policy around how to deal with pursuits and the issue of suicidal drivers in line with national protocols and guidelines.
Chief Superintendent Nye said: "I was keen to welcome Elber back to Devon and Cornwall and have her see at first hand how we are handling such a sensitive and difficult issue.
"Policy around police pursuit is very much led by national guidelines, but in Devon and Cornwall we are developing our driver training to give as much safety as possible to our own staff and other road users.
"The tragedy which Elber and her family suffered was immense and it has focused our attention on developing how we deal with drivers who are suffering a mental health episode or may be suicidal."
Ch Supt Nye added: "I've watched closely the work Elber has been involved in Ireland and I can only admire her commitment to see this matter highlighted so publically.
"I'm committed to ensuring here in Devon and Cornwall that we recognise the issues mental health and a suicidal driver could bring and that we deal with it in the safest and most professional manner.
"Having Elber's experience to run alongside this training is not only extremely impactive, but demonstrates more clearly than ever that training is and needs to be developed."
You can find more information about Elber's education campaign on Twitter @elbertwomey and #suicideawarenesstraining.
You can also listen to interviews with both Elber and Ch Supt Jim Nye here and here on Audio boom.