The Entertainer Toy Shop, the fastest growing multichannel high street toy retailer in the UK is opening a new store in Torbay.
There are 104 branches of The Entertainer and there will soon be one in Torquay.
The company recently celebrated the opening of their 100th store in March 2015.
Husband and wife team, Gary and Catherine Grant, founded The Entertainer in 1981 when they opened a local toy shop stocking popular toys of the era such as Cabbage Patch Kids and the iconic Rubiks Cube. Thirty four years later, The Entertainer now employs more than 900 people in their stores and a further 100 based at their head office in Amersham.
"We only sell toys we believe have real play value, represent good value for money and are suitable for the children they're made for" www.thetoyshop.com
The nearest store is currently Plymouth.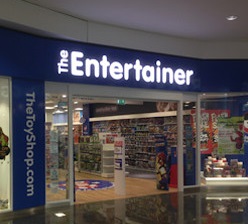 The popular toy shop will be opening in July will be located in Union Square Shopping Centre.
The store will open from 9am to 5:30pm Monday to Saturday and is currently looking for staff [To find out more and to apply, click here]
The Entertainer was recently named in 'The Sunday Times 100 Best Companies To Work For'.
Gary Grant, Founder of the Entertainer, said 'To be included in the Sunday Times Top 100 Companies list and being recognised and appreciated by our employees is both an encouragement and an honour that we won't take for granted'
For more information on The Entertainer, go to www.thetoyshop.com