It has been confirmed this afternoon that the 2016 Exeter Christmas Market will go ahead following the fire which has seen much of Cathedral green cordoned off since a fire which destoryed one of Britains oldest hotels 'The Royal Clarence'.
The market will run from Saturday, 19th November until Sunday 18th December.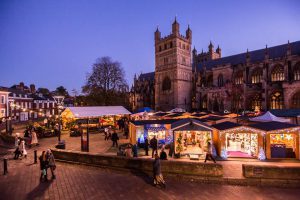 Cllr Pete Edwards, Leader of Exeter City Council said: "At times like these it is so important we work together to quickly begin to recover. We understand the importance of carrying on as best we can and we were determined to ensure the Christmas Market could go ahead. We are satisfied that the new layout will provide the safest possible option for visitors without compromising on their experience."
Following the submission of new layout plans that take into consideration a safety zone in place for the protection of the public, the revised layout has been passed by Planning at Exeter City Council.
Nick Rhodes Chief Executive of Market place said: "We are extremely pleased to have been advised that the market will go ahead and cannot praise enough the teams at the Cathedral and the City Council for their speedy response to our alternative delivery options. We are keen to offer a Market that will lift the spirits of city residents who have been saddened and affected by the dreadful fire. It is our ambition to deliver a market that supports the city this
Christmas and we are currently considering how we can play our part in the recovery of independent businesses in the Cathedral area."
The market, includes 86 hand crafted wooden chalets, offers a variety of goods and also has 2 bars.
One chalet has been donated for use by independent retailers in the Cathedral area, who have been closed since the fire took place.
Catherine Escott, Head of Visitor Services at the Cathedral, said: "Confirmation of the Market gives the people of Exeter something to look forward to following the events of the past few days and we welcome efforts that continue to support our friends around Cathedral Green who have been affected by the fire. We would encourage people to make the extra effort to visit the area in the build up to Christmas and to support all the local businesses represented in the market and the surrounding retail outlets."
You can follow Exeter Christmas Market on
Facebook
.