On 12 July, over one hundred supporters joined volunteers at Exmouth lifeboat station to celebrate those who save lives, work and live by the sea. Exmouth RNLI Chaplain, Reverend James Hutchings led the service.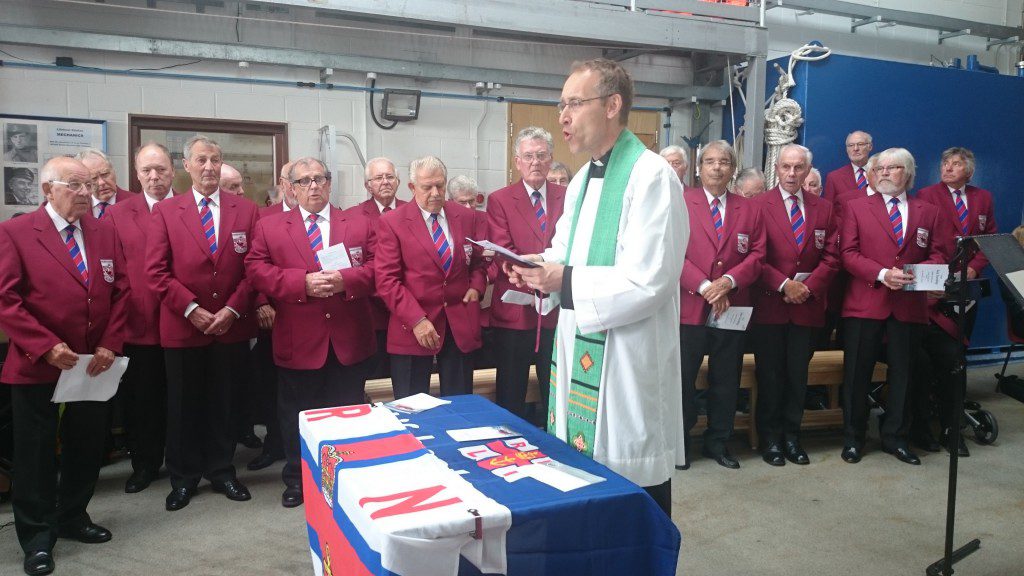 At least 100 people attended the 40 minute service, attracting many beach visitors throughout the duration. Exmouth Town Councillors and Exmouth Sea Cadets joined Exmouth RNLI crew and fundraising volunteers with their families, for the occasion.
Exmouth Town Concert Band accompanied the hymns and Budleigh Salterton Male Voice Choir delighted the congregation with their singing. Deputy Mayor and Fundraising Speaker, Brian Cole and Shop volunteer, Fiona Cotter read selected passages from the Bible. During the first hymn, Crew volunteer Tim Barnes paraded the RNLI standard, which was on display at the altar throughout the service.
Volunteers organised a bucket collection after the service, whilst the band played a medley of sea-faring tunes. Around £170 was collected in total, which will contribute towards the ongoing fundraising at the lifeboat station.
Reverend Hutchings, was delighted to see the support in the community; 'It was lovely to be gathered here together to give thanks to God for all his creation, to know that he is there to protect us through all the storms of life and the real life storms out at sea. We give thanks to all the great work of the Institution and the life-saving volunteers at our station.'