Exmouth RNLI inshore lifeboat George Bearman launched at 8.15pm on Valentine's Day, Saturday 14 February. The search in darkness took place following reports from members of the public of sightings of flares near the river Exe.
Crew volunteers' pagers interrupted romantic plans on the evening of St. Valentine's Day when the Coastguard requested help from the charity. Three volunteers in the D class lifeboat joined Coastguard teams from Exmouth and Teignmouth to search for signs of casualties in distress. The trio searched from the river between Dawlish Warren and Powderham in the dark, but were stood down 40 minutes later with no further sightings.
As the volunteers were washing down the inshore lifeboat after service, more mysterious orange and white lights were spotted inland, towards Haldon Forest. One possibility could have been that the lights were Chinese lanterns. Deputy Launching Authority, Neil Hurlock warns of their use in the advent to Chinese New Year;
'These Chinese lanterns can give people five minutes of fun but to our charity's crew volunteer can mean night-time, fruitless searches, possibly lasting hours. This can use up valuable resources if a lifeboat crew were needed for a real emergency, elsewhere in our patch.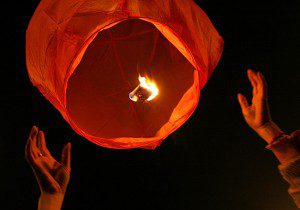 'The difference between the two are that red distress flares fall slowly to the sea after being fired, whereas glowing, paler-coloured lanterns can be seen rising and then going out. However, please do not hesitate to call the Coastguard if you think somebody is in difficulty on the water. We'd rather be called out on a false alarm, away from our candlelit dinners than to an escalated emergency.'