Exmouth RNLI inshore lifeboat George Bearman launched at 7.53am on 28 September following a call to the Coastguard from a man who had found himself cut off by the tide near Lympstone.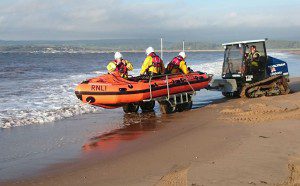 Crew volunteers took nine minutes to locate the casualty after a short search in the flat calm water. The man in his 20s was unfamiliar with the location and described geographical features to the Coastguard, which was then relayed to the crew.
The man had been walking upriver from Exmouth during high spring tides and found himself in difficulty. Finding a small abandoned boat, he climbed on board in an attempt to move to a safer area, but this started to sink. He used his mobile phone to call 999 for the Coastguard and in turn, the D class lifeboat was launched.
The man was recovered to the lifeboat by the crew volunteers and transferred to Exmouth Marina for safety.