Exmouth RNLI volunteers Help assist with an injured woman on Sandy Bay beach on Wednesday.
Inshore lifeboat George Bearman launched at 3.23pm on 9 March following reports of an elderly lady with a leg injury on Sandy Bay beach. A paramedic was on scene but needed assistance transferring the casualty to an awaiting ambulance.
Crew volunteers were on scene within seven minutes and landed the D class lifeboat straight onto the beach. The new inshore lifeboat stretcher was used by the paramedic, two crew volunteers and local dog walkers to carry the casualty, a local lady in her 70s, 600m to the awaiting ambulance at Orcombe Point.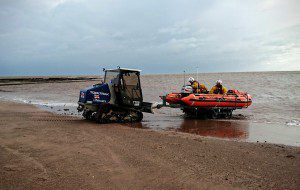 Helmsman Tommo Thompson said:
'The casualty was walking on the beach with her son when she was caught by the wind, landing on the hard, compacted sand. It was gusting force nine at the time of the rescue.
"The rising tide meant the location was inaccessible by other vehicles and it could have been a further danger to recover the casualty into the lifeboat. Our crew volunteers are prepared for all eventualities and anyone could need our assistance, even if they are ashore.
"We wish the lady a speedy recovery."