On 10 May, 12 visually impaired visitors, 8 helpers, 9 guide dogs and 2 organisers visited Exmouth lifeboat station as part of their holiday at Cliffden Hotel, Teignmouth with Action for the Blind; working with the RNIB.
Lifeboat Visits Officer, Derek Cairns and Shore Crew volunteer, Neil Cannon informed the visitors about the work of Crew volunteers and stories about recent rescues. In two groups, the guests were shown around the Shannon class lifeboat R and J Wellburn, D class lifeboat George Bearman, both launch and recovery systems and personal protective equipment, through their sense of touch.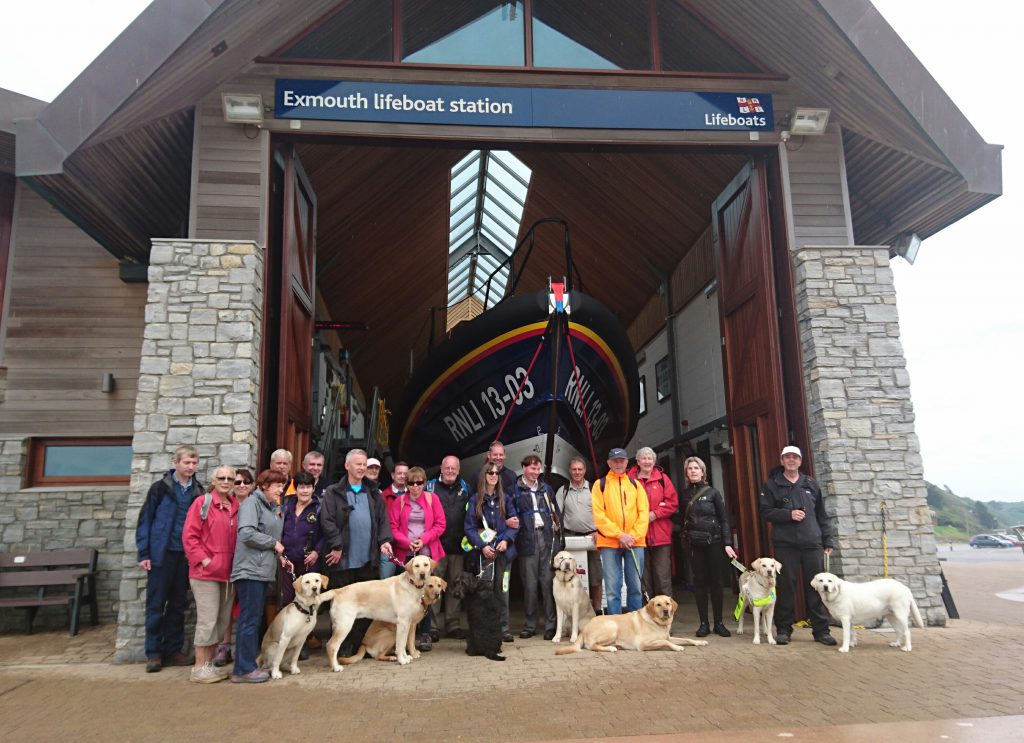 Organiser, Brian Hall MBE said of the visit:
'All our visually impaired guests and volunteers thoroughly enjoyed the tour of Exmouth lifeboat station. Lifeboat volunteers' explanations and hands on approach suited our group perfectly. This week we had organised a walk to Sandy Bay and decided to pre-book the visit to break up the walk. We run theme breaks to allow our visually impaired guests experience everyday things we take for granted and they really enjoy the sense of achievement through this.'
Derek said: 'We've never had a request like this before but we welcome everyone to the station who would like to hear about what we do. We are currently planning to run short, informed tours throughout the summer season, which holidaymakers can book at our shop from late June.'
You can book a visit for your group by emailing Derek: visits@exmouthlifeboat.org.uk or see our visits page on www.exmouthlifeboat.org.uk.