Crew volunteers were called out to people in difficulty in two separate incidents on 28 October, rescuing four casualties including a 10 year old boy.
At 10.56am, inshore lifeboat George Bearman launched following a call to the Coastguard from Coastwatch volunteers. They had seen a small yacht circling erratically in breaking waves 500m south of the station. Crew volunteers were on scene within three minutes of launching and one boarded the casualty vessel to supervise a tow in difficult towing conditions. The lone sailor was towed to a visitor's mooring near Dawlish Warren and given sea safety advice on carrying lifejackets, flares and radio.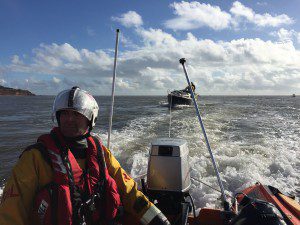 At 4.12pm, Crew volunteers launched George Bearman to three people – a 10 year old boy and his parents off Lympstone. Their Seedoo motor boat had suffered mechanical failure and the precise location was unknown. At this time, conditions had escalated to Force 4.5 and Shannon class lifeboat R and J Welburn launched at 5.25pm to assist the rescue. R and J Welburn towed the casualties to Exmouth Marina to safety.
The evening's scheduled exercise was brought forward by an hour as probationary crew were due to be assessed on towing drills. The Shannon returned to the D class and commenced the assessments in the estuary.