Both Exmouth lifeboats launched on the afternoon of 22 May to reports of a woman who had fallen overboard from a 21 foot leisure fishing motor boat, two miles south east of the lifeboat station.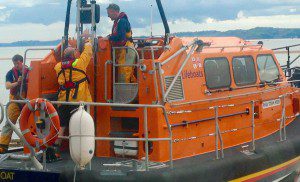 Exmouth inshore lifeboat George Bearman launched at 4.20pm in calm conditions. When the three crew volunteers arrived on scene, they found the 45 year old woman in the water clinging to a life ring. The volunteers pulled the casualty out of the cold sea into the D class lifeboat and administered first aid until coastguard helicopter, Rescue 106 arrived on scene. The woman was assessed and then winched into the helicopter and taken to the Royal Devon and Exeter Hospital.
Shannon class relief lifeboat RNLB Storm Rider launched at 4.40pm and was tasked to escort the casualty's vessel, with the casualty's husband on board, to Exmouth Marina.
Inshore lifeboat Helmsman, Scott Ranft commented:
'When we reached the casualty, the man was unable to pull his wife to safety, himself. She had ingested cold sea water and we needed to get her out quickly. We have since heard that the woman has recovered, her husband has purchased lifejackets and both went out on the boat again on Saturday morning after speaking to our Coxswain, Steve Hockings-Thompson.
'A large percentage of our call-outs this year have been to rescue casualties in the water without lifejackets and we cannot stress enough the importance of wearing one at sea. Please respect the water and be prepared with a suitable floatation device and means of communication.'