Both Exmouth lifeboats launched on Sunday to reports of a broken down motorboat half a mile off Budleigh Salterton. In the short time it took to reach the scene, crew volunteers found four casualties in the water after their motorboat had started to sink.
In south-westerly force 3 to 4 conditions, the Exmouth Shannon class lifeboat R and J Welburn launched first, within minutes of the pager request at 2.50pm. It soon became clear to the volunteers that the situation had escalated. Coxswain Steve Hockings-Thompson describes what happened:
'We were originally tasked to a broken-down motor boat off Budleigh Salterton but as we reached the safe water mark in the Exe estuary, we heard the Mayday call for immediate help over the radio. We realised we were on our way to a more serious scenario and once on scene, found four casualties in the water with the hull of their 18 foot motorboat sticking out of the water. Since only one casualty – a 13 year old child was wearing a lifejacket, time was of the essence.'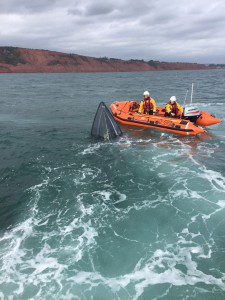 D class inshore lifeboat George Bearman launched shortly afterwards to watch over the scene as it was a potential hazard to other water users. Crew volunteers used the swinging A frame – a new design feature on board the Shannon class lifeboat, to pick the casualties out of the water. The highly-trained crew aboard the R and J Welburn took the casualties to an awaiting ambulance at Exmouth Marina as they had ingested sea water.
After returning to the scene, the volunteers established a tow line to the power boat and took the vessel to Belchers Slipway for recovery by the owner.
Steve Hockings-Thompson praised the volunteers' teamwork:
"I'm certain that yesterday's incident would have had a different outcome if it hadn't have been for two factors: the speed of the Shannon certainly helped get us there in half the time and the efficiency of lifting casualties out of the water using the swinging A frame. The year's valuable training our dedicated Crew volunteers have committed"