The 2019 Dinosaur Trail, spearheaded by Exmouth Town Council Town Team, was officially launched by Town Mayor, Councillor Steve Gazzard in May this year.
The Exmouth Town Council Town Team, a voluntary group of individuals from local businesses, community groups and residents across the town aim to keep Exmouth a thriving and exciting place in which to live and visit. They first organised the original Dinosaur Trail in 2016 following an idea first voiced by the late Councillor Alison Greenhalgh, with dinosaurs generously sponsored by a wide range of businesses across Exmouth. This proved to be a fine example of Exmouths community spirit that became immensely popular with the towns' residents, visitors, young people and local schools.
The Dinosaur Trail, supported by Exmouth Town Council and the Jurassic Coast Trust has, over the last two years, been revamped by the Town Team to comply with planning limitations on the original design. As a result, two new dinosaur trails are now in place – the 'Town Trail' which is around the town centre, and the 'Explorer Trail' which ventures further afield. Both trails each feature 15 plaques to locate, explore and make brass rubbings. Along both routes there are many life-size dinosaurs, as well as those featured in the Strand.
The life-sized model dinosaurs are located throughout the town, and others can be found in Manor Gardens, along the Seafront, Exmouth Library, Exmouth Indoor Market and in Best Books and are proving every bit as successful as the earlier trail.
Activity packs, costing just £1, continue to be available from: the new Exmouth Tourist Information Centre in the Strand; The Book Rest – 18 Parade, EX8 1RW; Exmouth Indoor Market – 12 Strand, EX8 1AB; Bumble and Bee – Manor Gardens, Alexandra Terrace, EX8 1BB; Harbour Crepes & Gifts – 3 Shelly Court, Pier Head, EX8 1ER; Oddfellows, Queens Drive Park Space – Queens Drive; Esplanade, EX8 2AY; Bumble and Sea – Orcombe Point, Exmouth. Children have fun finding the plaques and dinosaur models and then return to any of those outlets to gain their 'completion' badge and hundreds have enjoyed taking part in this throughout the summer months.
The brass-rubbing trail, the brainchild of Town Team member, Gayle Robson of Eaton-Terry Clark Holidays, together with other team volunteers has received many favourable reviews, for example:
"I did this trail yesterday with my grandson and grand-daughter – I would just like to compliment all who designed it and make it possible. The children were totally engaged and it took us to parts of Exmouth I did not know…..The clues were excellent…..The trail packs, which we bought in the Indoor Market, were incredible value!
Such a wonderful advert for the Exmouth Community. Huge thanks to all concerned! It is one of the best days out I have had with the children!"
And from a local resident, "Its great to see the Dinosaurs back again, and what a great idea to take it all round town so everyone can see what Exmouth has to offer!"
Financially the project has also been a huge success – over two years, £10,000 was authorised for spending on the new trails, half of the Town Team Budget, but to date the expenditure has been approximately £7,500 with additional income due from sponsorships and the sale of activity packs. Further, the expenditure on routine maintenance, wear and tear and unexpected accidental damage has been less than 20% of the anticipated figure, some £760 from £4,000.
Chair of the Town Team, John Thorogood, said "The Town Team have worked hard over the last two years to reignite the Dinosaur Project and I'm very pleased their efforts have come to fruition. The new trail is proving more successful than its predecessor with the advantage that it is not time limited by planning legislation. Huge thanks are due to the Town Councils Veronica Boatman and her team at the Tourist Information Service; Town Clerk, Lisa Bowman, who provided invaluable on-going support and guidance to the Team over a protracted period, as well as her team at Exmouth Town Council who managed the activity packs. Special thanks to Jenny Clark who led the project sub-committee, the Exmouth in Bloom Town Team members who assisted with planting advice and especially to Nick Christo and his team of experts at Streetscene who have worked tirelessly, often in inclement weather, on the day to day maintenance of the trail. Finally, a big thank you to the residents of Exmouth and visitors to the Town, whose support and encouragement throughout has been invaluable and is very much appreciated."
The Town Team are looking forward to the continued enhancement of the Dinosaur Trail, its educational aspect and tourist offer and intend building on its success as a key asset to the town that has clearly bought fun and enjoyment to many as well as marking Exmouths' rightful place as the gateway to the Jurassic Coast.
More information can be found online here : http://exmouthdinosaurtrail.co.uk/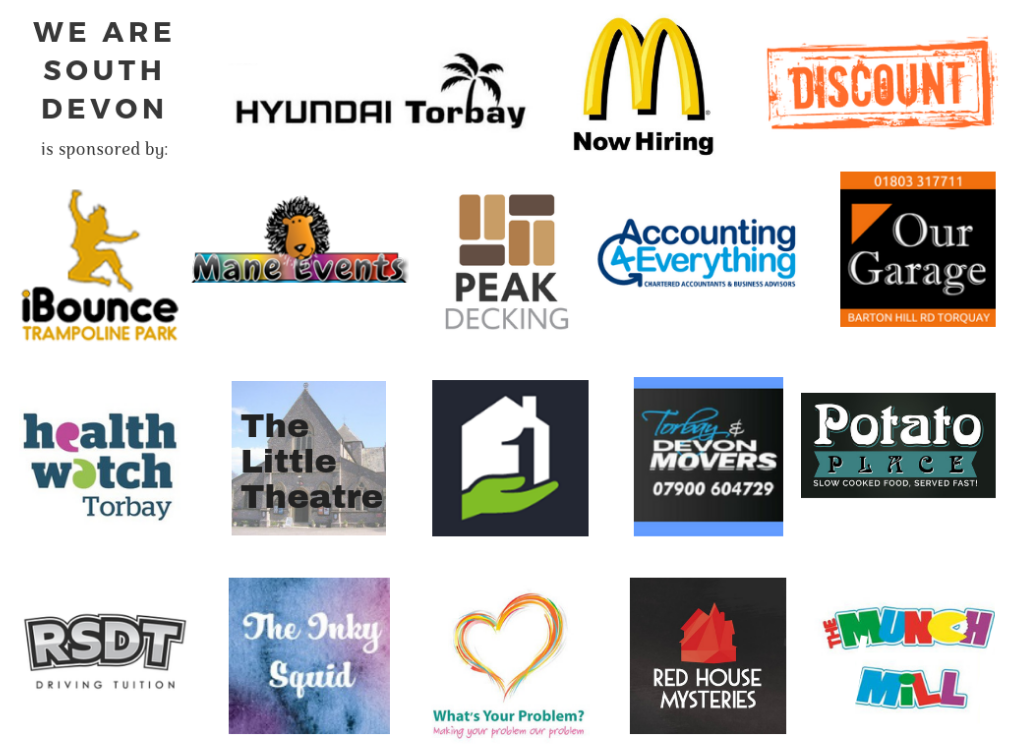 You can join us on our social media pages, follow us on Facebook or Twitter and keep up to date with whats going on in South Devon.
Got a news story, blog or press release that you'd like to share or want to advertise with us? Contact us