Today, the We Are South Devon family ventured to Torquay's Dinosaur World exhibition. We were greeted by friendly and enthusiastic staff who introduced us to the exhibit and how to make the most of our experience. We were provided with an interactive quiz to complete whilst exploring the exhibit and the children promised their own certificate upon completion which got them raring to go.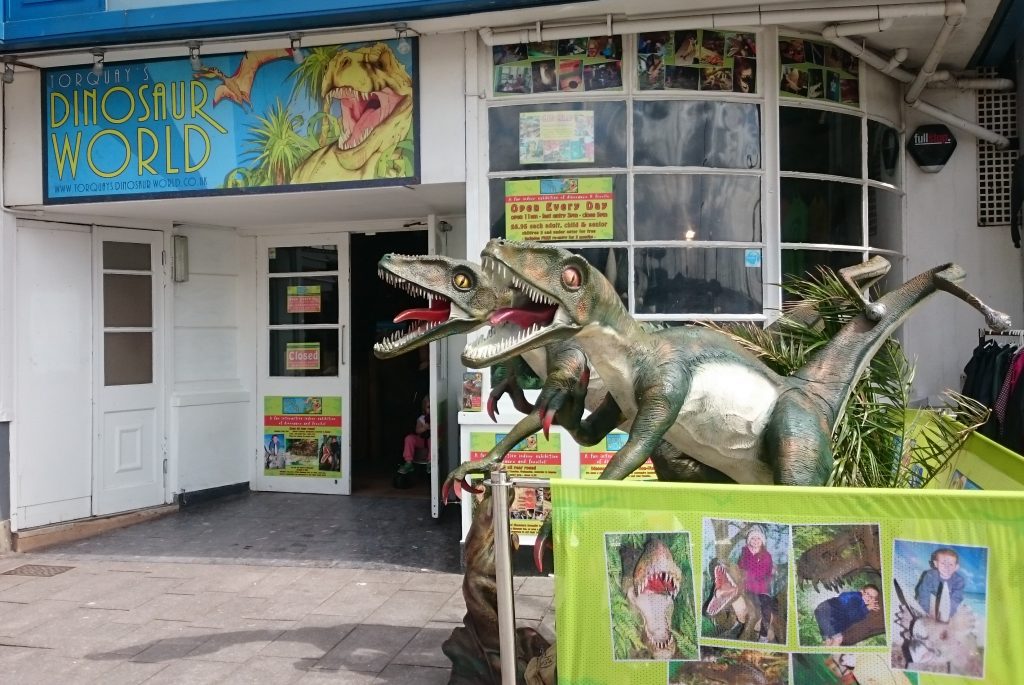 The exhibits were diverse and really sparked all of our imaginations in thinking about the time when dinosaurs walked the Earth. These ranged from dinosaur scenes that were interesting and informative to giant models of dinosaurs suitable for the children to jump aboard and grab a fun photo opportunity.
The exhibits were full of facts about the dinosaurs they depicted including the era in which they lived and a little about their nature plus some assistance in pronouncing some of the fanciful names! The quiz kept us engaged and excited about what we were learning and were collectively rewarded by discovering an answer.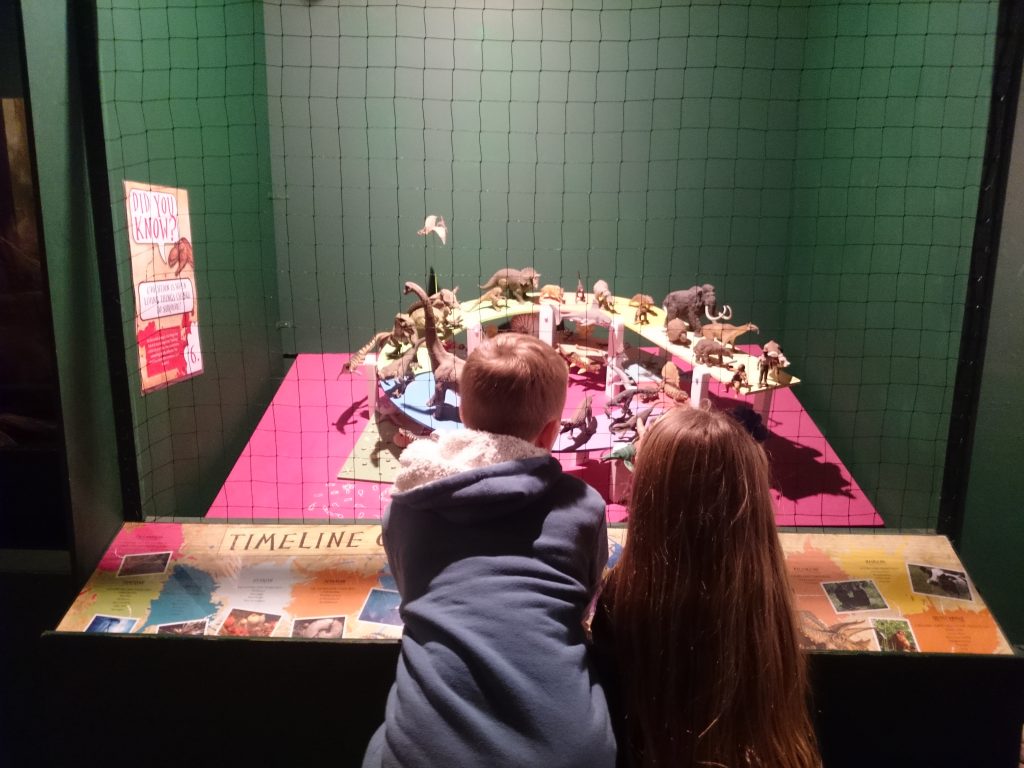 Having popped into an art gallery before entering dinosaur world and having a near calamity with a £4000 piece of art work, it was quite the relief that all of the exhibits in dinosaur world were interactive! The children loved engaging with the exhibits; touching the dynamic dinosaurs, discovering what raptor they equalled in size, counting dinosaur teeth and getting the opportunity to put their head inside the replicated skull and mouth of a giant T-rex. For our budding paleontologists there were lots of sand pits along the way where the children got the opportunity to have a go at digging up some dinosaur fossils.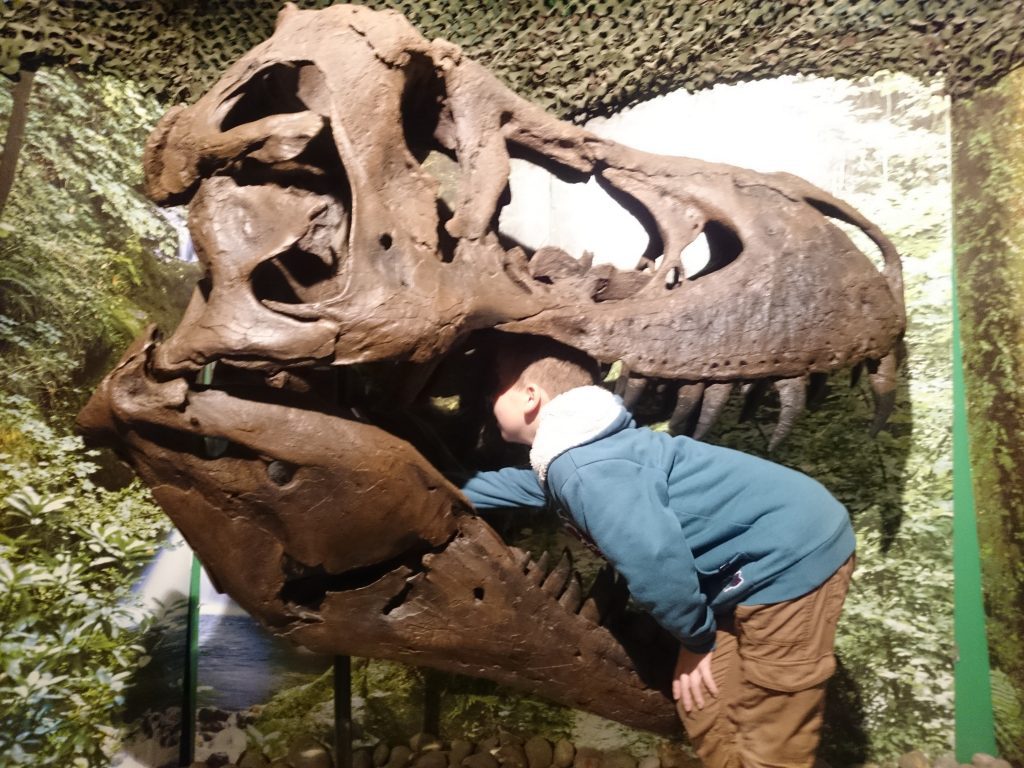 The giant roaring T-rex head both gave a great thrill and sparked a little fear into our 5 year old (and if I'm honest, myself too taking me back to some of the great T-rex scenes in the original Jurassic Park). Speaking of which, the kitchen scene at the end of Jurassic Park with the Velociraptors has been brilliantly re-created sparking a little nostalgia to the once ambitious paleontologist in me!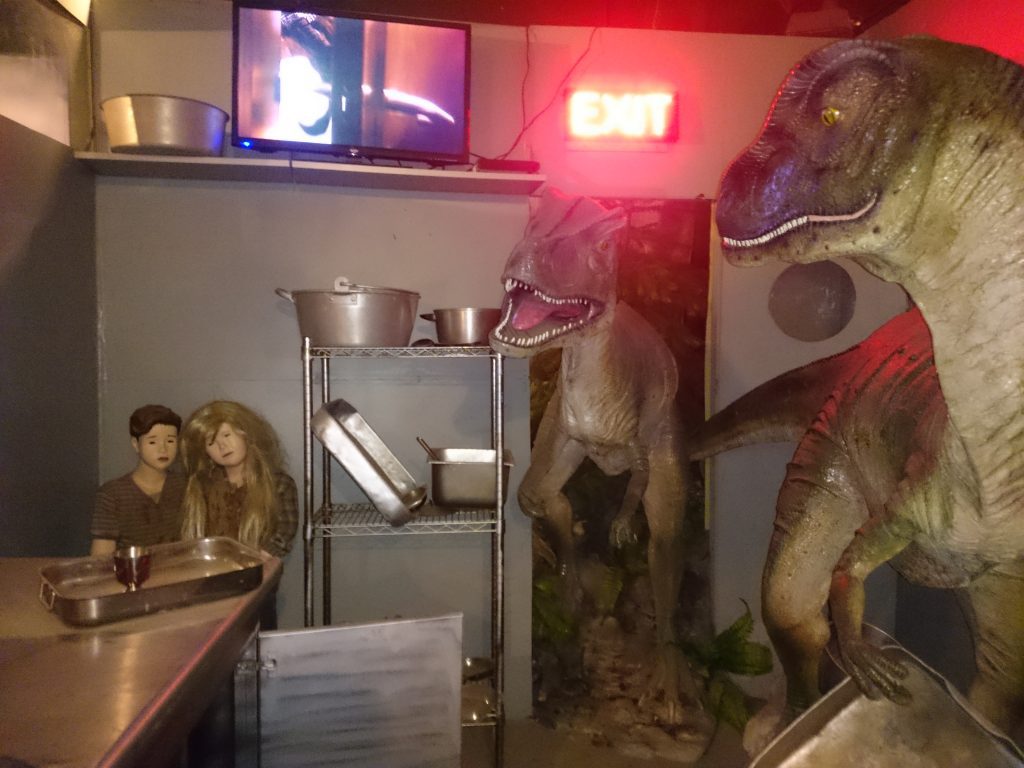 Two thirds of the way round and there's a pit stop to have a brief rest and for the whole family to indulge in a spot of colouring with opportunity to place your work proudly on display afterwards!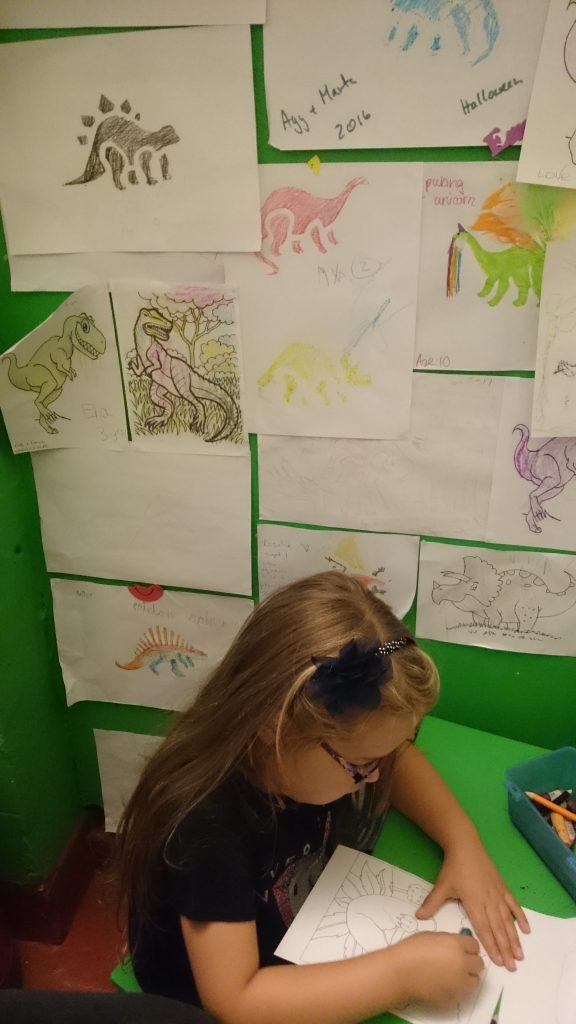 Just before leaving there's opportunity to have an unusual tactile experience by having a feel of some fossilised dinosaur poo! However don't be alarmed, I'm assured the bacteria in the poo has long since passed on and you'll be pleasantly surprised by it's texture.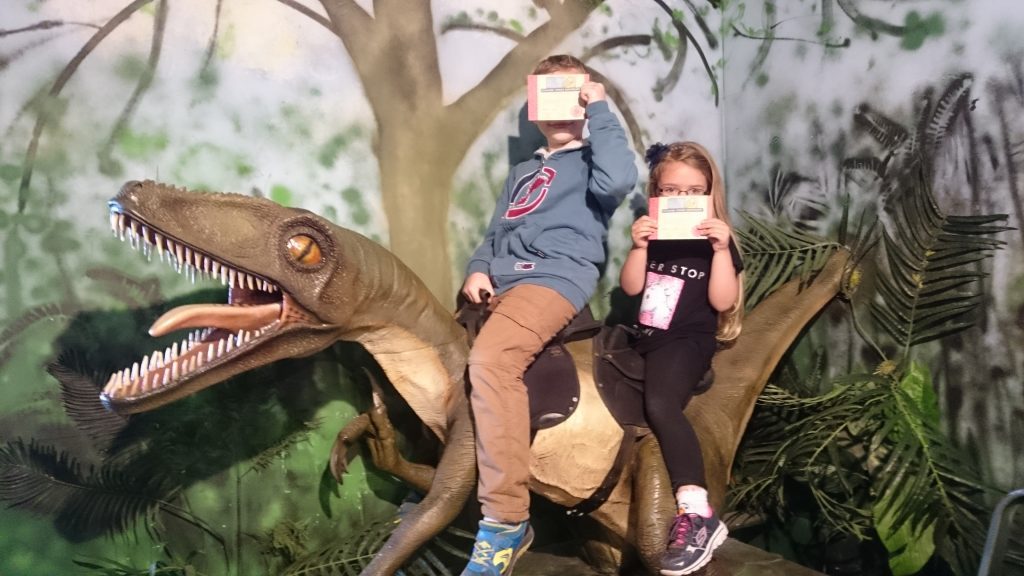 As a final farewell to Dinosaur World there's an opportunity to have a ride on a large model raptor and for the whole family to have a photo opportunity courtesy of Dinosaur world and to take away a photo souvenir to remember your time there. And finally, not forgetting to receive our well earned certificates for acing the quiz.
Torquay's dinosaur world is located near Torquay Harbour.
Admission costs are Adults/children/seniors £6.95. Under 2's are free. Concessions and carers £4.95 Military £5.95. This includes a Paleo Pass, which allows the named holders unlimited FREE re-entry for 3 months from your date of entry.
To find out more, go to: http://www.torquaysdinosaurworld.co.uk
[do_widget id=text-36]
Return to our home page for more local news here.
You can join us on our social media pages, follow us on Facebook or Twitter and keep up to date with whats going on in South Devon. Got a news story, blog or press release that you'd like to share? Contact us