The famous Paignton Zoo flamingo flock was moved recently so that work could be carried out on their island. But how do you move a flock of 51 large birds?
Senior Head Keeper of Birds Pete Smallbones explained the process: "We arranged for as many bird keepers as possible to come in early one Saturday morning. People even came in on their days off – we had 15 keepers to help."
Paignton Zoo has been home to flamingos for as long as anyone can remember. The Chilean flamingo (Phoenicopterus chilensis) is classed as Near Threatened and is protected by CITES.
These slender pink birds can be up to 1.3 metres (4 foot 3 inches) tall and weigh 3.5 kilos (nearly 8 pounds). They also have a one and a half metre – five foot – wingspan, long flexible necks and big sharp bills. So, the burning question – how do you carry a flamingo?
Pete: "We gently herded them into their shed, then two keepers went in and caught the birds up one at a time. You carry them with the head pointing backwards – though this does mean they will pinch your neck and bottom with their beaks!"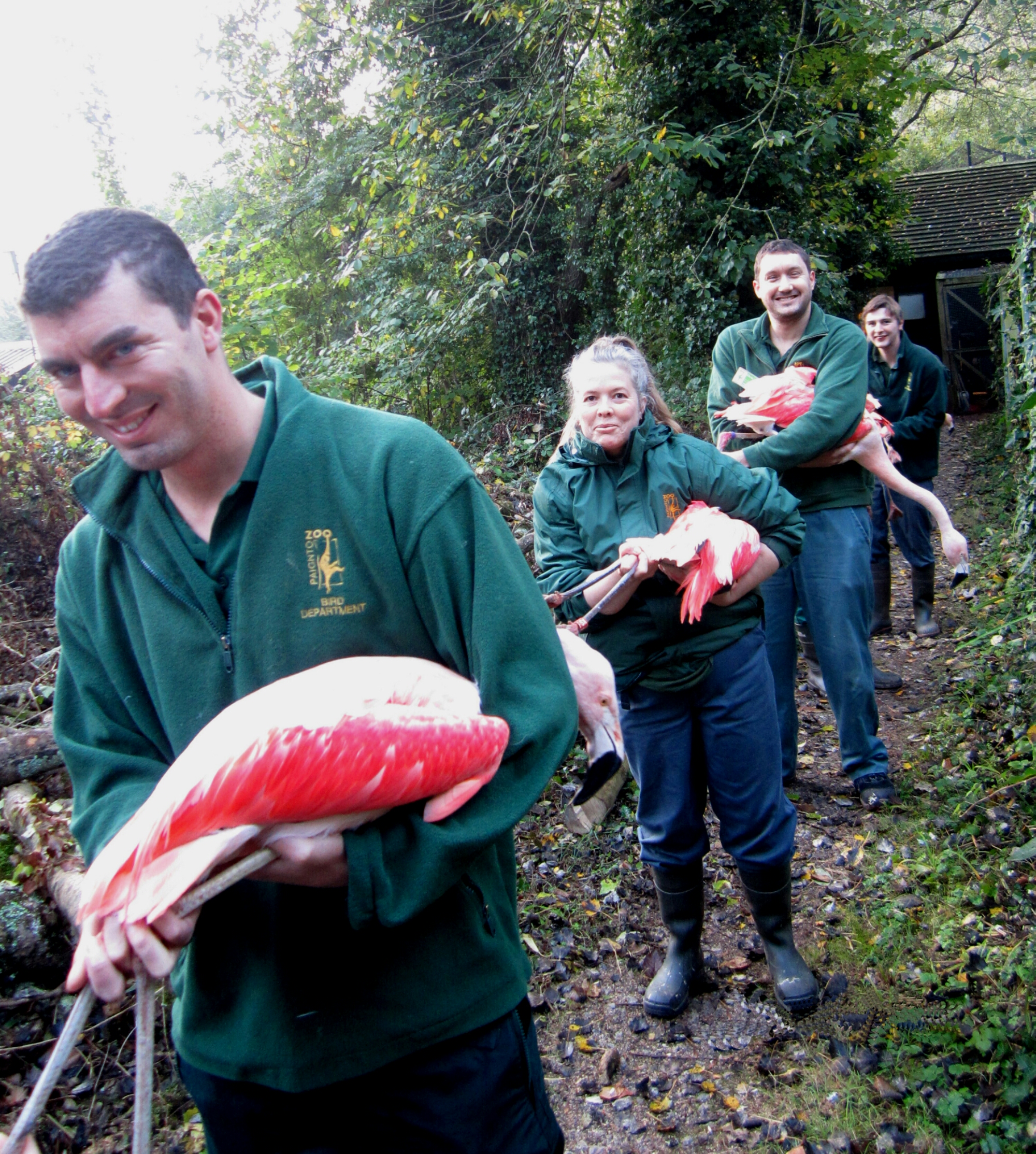 The birds were carried to a temporary enclosure near the Avian Breeding Centre. While they were away, their island was dug out and river sand added. The hope is that this will be good for their feet and will keep its shape so they can make heaps to lay their eggs on.
Zoo gardeners took the opportunity to trim some trees around the pond to improve the view for visitors and strengthen the edge of the flamingos' island with new planting. Another big job was replacing the boardwalk overlooking the pool to make access easier for visitors.
Paignton Zoo's in-house vet team were able to health check the birds as part of the move. The flock got a foot, beak, eye and body condition check. Some were weighed and blood tested. Wading birds can be prone to pressure-related sores on the feet, but the vets were able to report that the birds' feet were in very good condition.
The flamingos are now back on their island and seem happy with the quality of work. The flock is successful, though the birds tend to breed in cycles – 2011 was the last time a chick was hatched. Paignton Zoo Environmental Park is a registered charity. For more information go to www.paigntonzoo.org.uk or ring 01803 697500.