It's time to get baking.
Torbay Holiday Helpers Network (THHN) have set a challenge. No ice, no selfies – but cake!
Get out your apron and #bakenominate.
So what's involved? First, you bake a cake, you can either eat it or sell it. You then donate to THHN and nominate 2 others to join in the challenge. Don't forget to take a photo as there is also a chance to win a prize.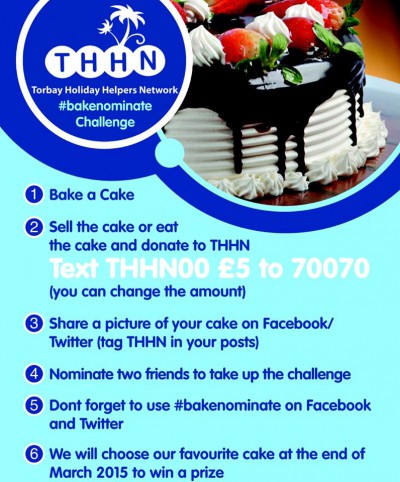 Torbay Holiday Helpers Network is a charity organisation which is a network of hotels, accommodation providers, tourist attractions and businesses who are all committed to helping give away free fun filled holidays, to families who have seriously ill children, families who are recently bereaved – having lost a child or parent and to families who have a terminally ill parent.
You can find out more about Torbay Holiday Helpers Network here:
www.thhn.co.uk