What happens when you give big pumpkins to big gorillas…?
Riverford Organic Farms donated two gigantic pumpkins to the animals at Paignton Zoo Environmental Park. The mega-vegetables, each weighing roughly 70 kilos, were grown by Riverford for their Pumpkin Day, held last Saturday.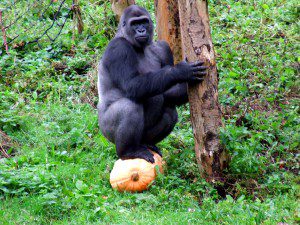 Rachel Lovell from Riverford said: "We had 1300 people on the day, lots of kids and veg box customers had their photo taken with the pumpkins – they became real stars! They were grown especially for this annual event and we hate waste, so we thought this would be a good use for them!"
Phil Knowling, from Paignton Zoo, said: "Huge pumpkins like these make great environmental enrichment for animals – it's like giving your pet a toy, just with a bit more science. We gave them to the gorillas but smaller animals like red pandas and spider monkeys enjoy them too – they can climb right inside a hollowed out pumpkin. It's great to see what they do with these unusual and unexpected items!"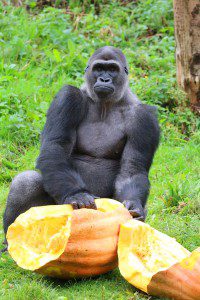 Rachel again: "We have a really good relationship with the Zoo and help by donating milk for Eliska – their baby giraffe – as well as bringing tree frogs and lizards to add to their collections from time to time. As we are organic we get more wildlife in our fields and sometimes in the crops themselves!"
Environmental enrichment aims to encourage natural feeding and foraging behaviours, stimulate mental and physical activity and provoke curiosity using unusual objects and situations. It can range from puzzle feeders and wind chimes to unusual scents and cardboard boxes with food hidden inside. Paignton Zoo Environmental Park has won awards for its enrichment work and hosted regional and international conferences on the subject. Paignton Zoo is a registered charity. For more information go to www.paigntonzoo.org.uk or ring 01803 697500.