Glen Bevan's story of hope and transformation is inspirational. A few years ago he was overweight and a borderline alcoholic, he suffered a collapsed lung and doctors told him to change his lifestyle or die. Now, as an ultra-endurance athlete, he's taking on a huge physical and mental challenge in aid of a local charity.
Glen is training for a combined run and cycle ride of over 250 miles on behalf of Living Coasts, Torquay's coastal zoo and aquarium. He'll start onSunday 24th April 2016 with the 26-mile Virgin Money London Marathon, go right into another run of 60 miles from London to Brighton and then jump on a bike to cycle a further 170 miles back to Torquay.
"I used to manage pubs and clubs – drink and junk food were part of the lifestyle. I was just about an alcoholic – I have an old photo on my 'phone, but people don't believe it's me! I had a collapsed lung when I was 27 and kidney problems, too."
He freely admits that it's all down to his addictive personality – but now he's gone from running clubs to running marathons.
Torquay-born Glen is 40 years old, 6 feet 7 inches tall and weighs 16 stone (although he plans to be under 15 by the time of the run). He takes size 15 running shoes – they're difficult to get and he goes through a pair every 3 months.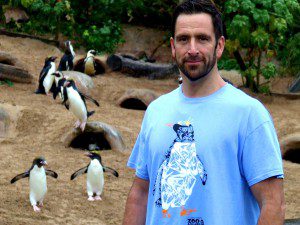 Jenny Paton, from Living Coasts, says: "I think what Glen is doing is truly incredible. The distance is essentially 10 marathons end-to-end. He will go on through the night. There's nothing quite like this challenge, so we had to come up with a name.
"We've called it the Mega Migration Challenge because the emperor penguin migration in Antarctica takes place in March and the London Marathon is in April. Glen is going further than the penguins, but hopefully not in the conditions they face!"
Vitally, he has the full support of his wife, Natalie, ("I couldn't do it without her, I wouldn't be here without her!") and his employers. He's been a personal trainer with Winner's 2000 in Torquay for seven years ("They are incredible – very supportive").
It seems nothing can deter Glen; this is a man who competes in triathlons – even though he doesn't like swimming. He's currently getting up at3.00am to train and putting in 15 to 20 hours a week in addition to his work at Winners gym and burning 1500 to 4000 calories a day.
To sponsor Glen, go to: www.virginmoneygiving.com/GlenBevan2. The money raised will go towards Living Coasts' conservation work.