(Last Updated On: May 22, 2017)
My name is Lexi Gilbert, and I want to go to Hollywood.
I've been living in Torquay for 16 years since I was 10, and all through my education with Westlands (now Spires College, South Devon College and then Plymouth University, I knew I wanted to work in movies. I've always adored creating things and seeing how the magic in movies was really made.
Now I'm within touching distance of a scholarship with a top special effects school right in the heart of Hollywood. Cinema Makeup School runs a yearly scholarship contest in which applicants create and submit a rendition of an existing character from movies, TV, books, games etc, and they must display creativity and potential to impress the school. The public can vote for their favourites on Facebook, and the top 5 most voted go through a panel of Oscar-winning judges. 4 finalists receive runner-up school vouchers, and the winner receives a 6 month £14,000 scholarship and the possibility of a paid internship.
This is my third time trying for this scholarship as I've got my heart set on this incredible dream opportunity. In the first two years I made it through to the 5 finalists both times, but just missed the winning spot. Now I've pulled out all the stops with my third entry. I've made a rendition of Davy Jones, the tentacle-faced villain of the blockbuster film series Pirates Of The Caribbean. He's all fully homemade as well as self-worn. He is embroidered with over 700 individually glued seashells (most of which were found on local beaches), and he involves over 20 fully possible latex tentacles and a huge crab claw hand which opens and closes.
During the month of May I've appealed to the public on Facebook for help with voting to help me get closer to that scholarship, and the response has been incredible, especially from the community page Spotted Torquay. There has been an overwhelming response and a heartfelt show of support for my entry. I'm the only UK finalist and voting closes for good Friday 26th May 8pm.
After voting closes, the 4 judges will individually rank us in order of favourite. A 1st favourite earns you 5 points, a 2nd favourite earns you 4 points and so on. Points are added together and the highest scorer gets the scholarship.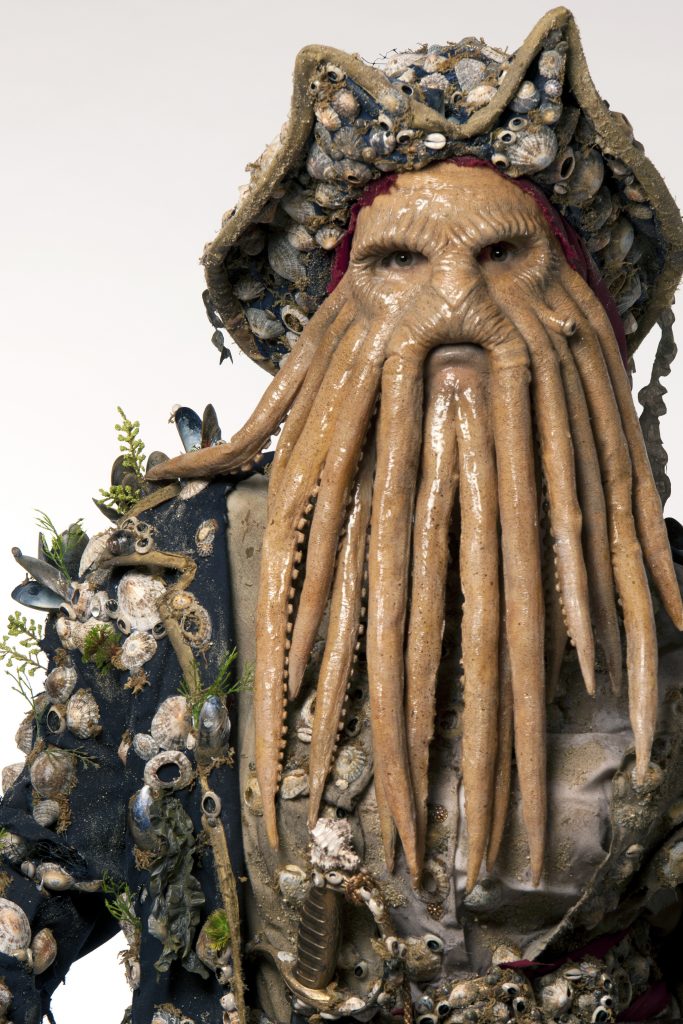 Until then though, the 5 finalists have a chance to earn bonus points to add to their judges score. The public can vote for them on Facebook and I get extra points depending on what order I finish in the 5 finalists when voting closes. If I finish in 1st place I get 5 bonus points, if I finish in 2nd I get 4 extra bonus points etc.
If you'd like to support the only UK finalist and help a local girl achieve her dreams, you can vote for my Davy Jones once a day until Friday at this link: http://bit.ly/2pqU1Fa