Regular readers of WASD will know that we like to remember old movies filmed in South Devon. This time it's the turn of the 1950 Ashburton-set 'Guilt Is My Shadow', a low-key and low-budget British crime drama from Associated British Pictures.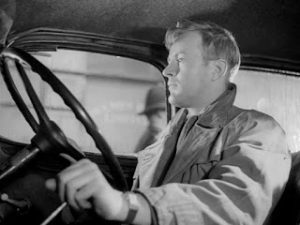 The movie opens with a bank robbery gone wrong. The only member of the gang to escape is a terribly well-spoken getaway driver Jamie (Peter Reynolds) who hides out on his uncle's farm. However, Uncle Kit (Patrick Holt) is a recluse who resents his nephew's visit. Jamie, on his part, is openly contemptuous of farm life and the lifestyle of local villagers. He's also a liar and a thief with a line in nasty domestic violence and, when he gets a job in the local garage, he cheats the customers.
While this starts out as a gritty urban crime thriller it then becomes a rural psychodrama when Jamie's wife turns up and our anti-hero starts sniffing around the local Ashburton maids. It all ends badly…
Director Roy Kellino had a career in movies before moving into television. The screenplay, by the Director, Ivan Foxwell and John Gilling was based on a novel by Norah Lofts.
It is, of course, the Devon location shooting that has attracted our interest. The outdoor scenes were shot in Ashburton and the agricultural fair. There's also a scene of a train arriving at 'Welford Station' – actually Staverton on the preserved line of the South Devon Railway. The locomotive no.1470 was a regular on the line which ran to Ashburton and closed in 1964.
Here's a short clip of the movie: