Baby Orangutan Natalia sniffs a flower in her enclosure at Paignton Zoo Environmental Park, Devon, while riding on her Mother Chinta's back.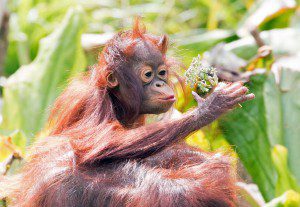 The photo marks World Orangutan Day, which is a chance to celebrate these amazing apes and to raise awareness about their plight. There will be special talks and activities at Paignton Zoo throughout the day.
One of Paignton Zoo's two toddler Orangutans, budding botanist Natalia was born in December 2013. In the wild, infants become completely independent by 6 – 9 years of age.
Orangutans are threatened by hunting, the pet trade and habitat destruction. Wild Orangs have global legal protection. Some live in protected forests and there are successful rehabilitation programmes for rescued pets and orphans. There are also conservation breeding programmes in zoos world-wide.
The Bornean Orangutan is classed as Endangered by the IUCN Red List, which is the world's most comprehensive inventory of the global conservation status of plant and animal species. A species is endangered when the best available evidence indicates that it facing a very high risk of extinction in the wild.
Paignton Zoo's Curator of Mammals Neil Bemment is vice-coordinator of the Orangutan European endangered species programme, which coordinates the efforts of top European zoos to conserve the species.
A major problem is the destruction of rainforest to grow commercial crops such as palm oil. Paignton Zoo and sister zoo Living Coasts are working to become palm-oil free sites.
In addition to Chinta and Natalia, Paignton Zoo's group of Bornean Orangutans includes females Gambira and Mali and Mali's baby, Tatau. Paignton Zoo Environmental Park is a registered charity. For more information go to www.paigntonzoo.org.uk or ring 01803 697500.