Local consumer champion Healthwatch Torbay are returning to Torbay's town centres this month in a bid to find out how the local community feels about their local health and social care services.
The local independent charity set up to champion patients' rights – will be visiting each of Brixham, Paignton and Torquay town centres on 22nd & 29th of September, plus the of 3rd October respectively, to consult with the Torbay public.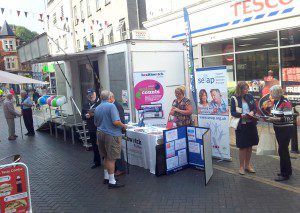 Throughout the consultation they will be joined by other health and social care organisations, including the Devon Advocacy Consortium and Abdominal Aortic Aneurysm (AAA) team, with clinicians from South Western Ambulance Service NHS Foundation Trust offering free blood pressure checks in Paignton and Torquay.
The South Devon & Torbay Clinical Commission Group – who buy and developing services for local patients – will also be present on each of the days to meet with the public and follow up on a Healthwatch Torbay report on Wasted Medication in Torbay, spreading the message "Don't be a Hoarder, don't over order". They will also be raising awareness on how people can refer themselves direct to a physiotherapist without having to go through their GP.  The events will occur on:
Tuesday 22nd September – 30am-4pm – Outside Subway, Fore Street Brixham
Tuesday 29th September – 10am-4pm – Outside New Look Paignton
Saturday 3rd October – 10am-4pm – Outside Primark Torquay
Healthwatch Torbay Chair Kevin Dixon is hoping the public will take advantage of their community presence and 'have their voice listened to', commenting:
"Our aim is to help the Torbay public let the people in charge of health and social care services in Torbay – such as GPs, Hospitals and Care Homes – know exactly where and how services need to be improved. We have the ability to make sure they listen to and act upon what the public are telling them." 
"We're pleased to say that the majority of those we speak to are relatively happy with the actual service they receive, when they receive it. But it is a challenging time for the health and social care sector, and we have heard from those who have had a less happy experience; we have worked very closely with local organisations to ensure the issues these people raised are addressed by those involved.  
We really hope the people of Torbay seize the opportunity to share their experiences with us and have their voice listened to. It really can make a big difference."
The three events have been set up following the success of similar events the last two years since Healthwatch Torbay was launched in 2013.
Since then they have been gathering hundreds of patient experiences – including nearly 700 reviews on their online rate & review tool – and using them to produce detailed reports and recommendations on areas as diverse as Dementia awareness, mental health services, hospital discharge, community-based services, repeat prescriptions, young people's emotional health and Carers Services. Trends, issues and recommendations are discussed and actioned via specialists meetings with Torbay Council, Health Trusts and Health Commissioners.
If you want to know more, please call free on 08000 520 029, email info@healthwatchtorbay.org.uk, or visit www.healthwatchtorbay.org.uk to rate and review a local health and/or social care service in confidence online. You can also visit them in person during the week upstairs in Paignton Library.