Local consumer champion Healthwatch Torbay have surpassed the thousand review mark on their online rate and review tool for Torbay's health and social care services.
The independent charity – set up to champion patients' rights – launched the South West's first ever 'rate and review' public service for users of health & social care facilities in the region in June 2014, following a public consultation demanding for such a service.
The online service – accessible via a variety of devices – allows people to easily and anonymously rate the care that they have received from a health and/or social care service from wherever they are.
Last year the rate & review system – supported by the South West Academic Health Science Network and NHS England – was a finalist for a prestigious national patient experience award at the PEN National Awards 2015.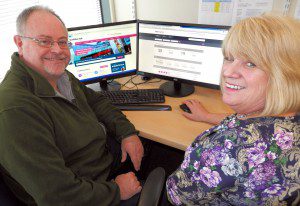 Since its launch, the system has gathered over a thousand reviews relating to nearly 120 different health and social care services in Torbay. Healthwatch Torbay Chair Dr Kevin Dixon is very happy with these statistics:
"We are delighted that our online rate and review tool is so popular with the Torbay public, and it is even better to see the feedback we gather used to directly influence services locally.
"We're hoping for 1% of the Torbay population – 1,300 people – to have reviewed a service by the time of its two year anniversary in June. So if you have recently visited your GP, pharmacist, dentist or optician, or if you've spent time recently in hospital or at a care home, please go on our website and review them – whether it was a great experience or there's room for improvement, please let us and Torbay know. Your feedback really can make a difference."
Healthwatch Torbay Chief Executive Pat Harris said: "From the rate and review statistics, we can see that the overwhelming majority of reviews are centred on Torbay Hospital and GP surgeries, with general consensus being that the public are happy with the treatment and care they receive and the staff that deliver it, however, they find it difficult to book appointments and get very frustrated with long waiting times and difficulty accessing services."
"We are all aware of the growing pressure health and social care services are under in terms of capacity and demand, and we can see the knock-on effects this has on all services, particularly emergency care. We are working closely with providers and commissioners to share your feedback on this and ensure it is both listened to and acted upon."
The online patient feedback data is used alongside other feedback gathered by Healthwatch Torbay to analyse and monitor trends and issues, so recommendations can be made to service commissioners and providers on where they can improve to meet local patients' needs. Since the launch of the rate and review tool, Healthwatch Torbay has used local public feedback to:
Produce in-depth reports discussed at quality meetings into areas such as community services, eye care, mental health services, hospital discharge, GP Appointment systems, Carers Services and Dementia.
Directly influence local Carers Services at a commissioning level and develop an action plan for 2015-17.
Feed directly into the commissioning strategies of the national UK Vision Strategy for eye care.
Instigate a national debate in the House of Lords on a local transgender issue raised by a Torbay resident. NHS England were prompted to produce a gender dysphoria protocol, as well as service guidelines, and also create a task and finish group to look at key areas.
Escalate an issue on poor GP communication (regarding the Shingles vaccination) raised by a local Torbay resident to NHS England and Public Health England
Support the development of a new approach to Care and Support after a report into local domiciliary care
Take part in community hospital visits, and assessments of the care environment.
Work closely with Torbay GPs to highlight an issue with a surgery's booking system, which they have since revised.
Become the first local Healthwatch nationally to engage with GP surgery patients to collect friends and family test (FFT) data, and also work with two GPs to survey patients on a potential merger, feeding this back to both the surgeries and their patients.
All the general feedback Healthwatch Torbay receive is passed onto providers and commissioners for consideration, and any complaints are escalated through to official channels, where they monitor their progress and check they have been upheld.
"We have lots of examples where the feedback of a few Torbay residents is being used to influence the way health and social care services are delivered both locally and nationally," added Mrs Harris, "We really value all the feedback we receive from the Torbay public, and will continue to escalate your issues to the people who can really make a difference at both a local and national level."
For more information on Healthwatch Torbay – based at Paignton Library – or to rate and review a local service, please visit www.healthwatchtorbay.org.uk or call free on 08000 520 029.